2020 Year in Review
Friday, Jan. 08, 2021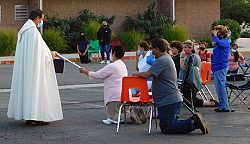 IC archive photo
Photo 1 of 5
SALT LAKE CITY — When the novel coronavirus struck Utah in March, Bishop Oscar A. Solis implemented emergency measures in the Diocese of Salt Lake City, issuing a dispensation from the obligation to attend Sunday Mass, suspending public worship in Catholic churches, canceling events such as the annual diocesan Lenten retreat, and instructing the Utah Catholic Schools to provide remote instruction rather than onsite.
"These measures will remain in effect until March 31, or until further notice," Bishop Solis wrote in a message that appeared March 20 in this newspaper.
Nine months later, those restrictions have eased, but many measures remain in place to prevent the spread of the pandemic: churches are limited in the number of people who can be physically present, those who enter the churches are required to wear a face mask, most parishes offer online liturgies, social gatherings are limited in number, social distancing and sanitary procedures are observed. Utah Catholic Schools returned to onsite instruction in August, for the beginning of the 2020-2021 school year, but campuses follow preventive measures similar to those at the parishes.
The pandemic caused the Diocese of Salt Lake City to cancel public celebrations of Holy Week. As the year went on and COVID-19 continued to spread, many traditional gatherings also were canceled. Among them was the diocesan Pastoral Congress, an event that typically draws hundreds of people from throughout the diocese for ongoing faith formation. Other events were held virtually, including the 2020 Bishop's Dinner, which included videotaped segments by Bishop Oscar A. Solis, the Very Rev. Martin Diaz, rector of the Cathedral of the Madeleine; Msgr. Joseph M. Mayo, a retired priest of the diocese and former cathedral rector; and Frank Layden, former coach of the Utah Jazz, who made an appeal for contributions to the annual fundraiser for the cathedral.
When it became apparent that the requirements for social distancing would be in place for many months, local Catholics adapted with innovative measures. For example, the diocesan Charismatic Renovation group, which typically has hundreds of participants for its novena at Pentecost, held a virtual event this year, livestreaming its daily Mass from St. Therese of the Child Jesus Catholic Church and having people from different parishes guide the novena. Also, almost 100 delegates from Utah participated in an online in-service training for the V Encuentro, which was offered by the U.S. Conference of Catholic Bishops' Subcommittee on Hispanic Affairs/V Encuentro.
To recognize their students' accomplishments, Utah Catholic Schools held virtual graduations and drive-by celebrations.
Local priests also came up with creative ways to continue their ministry. They began to offer the Sacrament of Reconciliation in the parking lot, so that penitents could remain in their cars, maintaining social distancing, while confessing. In addition to livestreaming Mass, many pastors used various social media platforms to present worship opportunities such as regular rosary recitation.
Many parishes in the diocese undertook efforts to serve those affected by the pandemic. For example, in April, Fr. Tai Nguyen and parishioners at our Lady of Perpetual Help made 500 cloth face masks, which were donated to the Navajo Nation. In June, St. Thomas Aquinas Parish in Logan began its ongoing effort to provide food, cleaning supplies and personal hygiene items.
Just as the pandemic was making its effects known, an earthquake shook the Salt Lake area on March 18. It and its aftershocks caused minor damage to the Cathedral of the Madeleine and other local churches and Catholic schools.
Then, on Sept. 8, a windstorm with 90 mph hurricane force struck the state. Nearly 200,000 homes lost electrical power, and thousands of trees were knocked down. The grounds of Mount Calvary Catholic Cemetery and the Carmelite monastery suffered significant damage.
Despite the pandemic, earthquake and windstorm, the diocese had many reasons to celebrate. On Jan. 18, Carmelite Sr. Marie Rosa of St. Joseph professed her solemn vows and received the black veil of her order from Bishop Oscar A. Solis at the Carmel of the Immaculate Heart of Mary in Holladay.
A few weeks later, on Jan. 31, Bishop Solis ordained five men to the diaconate for the Diocese of Salt Lake City: Jeff Allen, Jeremy Castellano, Robert Cowlishaw, Tom Devereaux and Greg Werking.
On May 30, Holy Cross Sister Laura Tiburcio Santos made her Perpetual Profession in the Pastoral Center's chapel. Travel restrictions imposed because of the pandemic meant that Sr. Laura couldn't go to her religious order's motherhouse at St. Mary's in Notre Dame for her profession of vows, as is traditional. Instead, Holy Cross Sr. Patrice McGee, who teaches at Kearns-St. Ann School, was delegated to receive Sr. Laura's vows.
Then, on Aug. 14, Fr. Dominic Sternhagen received the Sacrament of Holy Orders from Bishop Solis at the Cathedral of the Madeleine.
In addition, the diocese received three new priests. Fr. Edward Leondhas began ministering in the diocese Jan. 20; he is now the administrator of Saint Helen Parish with its associated missions: Holy Spirit and St. Kateri Tekakwitha. Aug. 1 saw the beginning of the local ministry of Fr. Kelechi Alozie, parochial vicar of Saint George Catholic Church; and Fr. Noel Ancheta, who serves as chaplain at Primary Children's Hospital, the University of Utah/Huntsman Cancer Institute, and Shriner's Hospital.
The year 2020 saw the start of two new efforts in the diocese. El Sembrador, a Catholic radio station, began transmitting in Utah on Oct. 22. The station, at 1430 AM, is part of the ESNE evangelization ministry based in Los Angeles.
On Nov. 14, a Mass recognizing the launch of Project Rachel in the Diocese of Salt Lake City was celebrated at St. Ambrose Parish by Fr. Erik Richtsteig, pastor. Project Rachel is a national ministry that offers comfort and healing to people affected by abortion.
The year also marked significant anniversaries for a number of local Catholic clergy and organizations. Because of the pandemic, the festivities that acknowledged the milestones were subdued.
The Daughters of Charity celebrated their 100th anniversary of ministry in Utah. The religious order was founded in 1633 by St. Vincent de Paul and St. Louise de Marillac. In 1920, the Right Rev. Joseph S. Glass, second Bishop of Salt Lake, invited the sisters to minister in Utah. Upon their arrival, the sisters founded Catholic Elementary School #1 in Salt Lake City, now Our Lady of Lourdes School, as well as other schools in Salt Lake City and Price. As the years went on, the sisters expanded their ministry to include outreach to the poor. Currently, the Daughters of Charity operate Give Me A Chance, a nonprofit organization in Ogden that helps low-income women achieve self-sufficiency.
Judge Memorial Catholic High School also celebrated its 100th anniversary in 2020. Judge began in 1920 as a grammar school. In 1923, the Daughters of Charity of St. Vincent de Paul began the Cathedral High School at the Cathedral of the Madeleine. The two schools combined in 1926, under the name Judge Memorial Grammar and High School. A restructuring in 1949 included a new name: Judge Memorial Catholic High School.
Catholic Community Services celebrated its 75th anniversary; the nonprofit organization was founded in 1945 by the Most Rev. Duane G. Hunt, fifth Bishop of Salt Lake City, to provide assistance to the poor, foster care, family counseling and adoption services. Since then, the adoption services have been discontinued, but other services have expanded to include help for the homeless, the Joyce Hansen Hall Food Bank in Ogden and refugee resettlement programs.
The Most Rev. William K. Weigand, seventh Bishop of Salt Lake City and bishop emeritus of Sacramento, celebrated the 40th anniversary of his episcopal ordination. He was ordained a bishop at the Salt Palace on Nov. 17, 1980.
Three priests in the diocese celebrated the 25th anniversary of their priestly ordination: Fr. Bruce Clapham, chief chaplain of the George E. Wahlen Department of Veterans Affairs Medical Center in Salt Lake City; Fr. Showri Kalva, administrator of St. James the Greater Parish in Vernal; and Fr. Langes Silva, the diocese's judicial vicar.
Holy Cross Ministries celebrated its 25th anniversary. HCM offers health outreach, counseling, education and legal immigration programs to those in need in the Salt Lake and Summit County areas. The nonprofit organization was formed with the proceeds from the sale of Holy Cross Hospital in Salt Lake City.
On Nov. 21, three deacons celebrated the 20th anniversary of their ordination. Deacons Rigoberto Aguirre, Denny Davies and Goraciano Tellez were ordained deacons on Nov. 19, 2000, along with Deacons Jack Gorman and Joe Regan. Deacon Regan died in 2006; Deacon Gorman died in 2019. Deacons Aguirre, Davies and Tellez were honored at a Mass at Christ the King Catholic Church, at which Bishop Solis presided.
Give Me A Chance celebrated its 10th anniversary. The nonprofit organization has its beginnings in the sewing classes offered by Daughter of Charity Sr. Maria Nguyen. Those classes were so successful that Sr. Maria was able to open the De Marillac Formal Attire boutique in Ogden. Then, services were expanded to include classes in computer literacy, English as a Second Language for Adults, and an after-school program for children, among others. All of these classes are intended to promote self-sufficiency for the participants, who are primarily people who have low incomes.
Despite the pandemic, a number of parishes and several schools completed long-planned renovations in 2020. St. Therese of the Child Jesus Parish expanded its parking lot. St. Elizabeth Parish in Sevier County began operating a new well. In St. George, St. George Parish's Kuzy Hall received new flooring and new heating and air conditioning systems; in addition, work was done on the façade and the parking lot was resurfaced. Sts. Peter and Paul Parish in Salt Lake City remodeled its social hall with new flooring, new paint and a new roof, and expanded its park lot.
St. Jude Maronite Parish completed its move from its former church in Murray to its new site in Taylorsville, celebrating their first Sunday Mass there on Feb. 23. On Aug. 4, Bishop Elias Zaidan of the Maronite Eparchy of our Lady of Lebanon dedicated the new St. Jude Maronite Catholic Church in a Mass concelebrated by Bishop Solis and Msgr. Joubran BouMerhi, pastor. A few months later, a 12-foot Antiochian Cross donated by an anonymous donor was installed on the church's north wall.
Unexpected donations also contributed to improvements at local churches. Wendell Covert, a lifelong parishioner at St. Joseph Catholic Church in Ogden, left his estate to the parish, which used the funds to install a new roof.
At St. Olaf Parish and school in Bountiful, a new parking lot with ADA-compliant stalls was the first phase of renovations, which also included landscaping. In addition, a family at the school donated a Celtic-style mission cross, which was installed in front of the school.
The Madeleine Choir School's playground was renovated, with the installation of artificial turf and a new play structure, and St. Joseph Catholic High School broke ground for a new pavilion and soccer field.
In addition, a new Marian grotto was blessed at St. Jerome Newman Center in Logan. The replica of the Lourdes grotto was built by Fr. Joshua Santos, chaplain.
Two diocesan priests retired in 2020: Fr. Jan Bednarz and Fr. Patrick Reuse, S.J.
Fr. Bednarz was ordained a priest on May 27, 1972 by the Most Rev. Boleslaw Kominek, Archbishop of Wroclaw, Poland. He came to Utah in 1989. His first assignment was at Christ the King Parish in Cedar City, where he remained until 1996. In the following years, he served as pastor of St. James the Greater Parish in Vernal, and then at St. Martin de Porres Parish in Kearns, from which he retired.
Fr. Reuse was ordained a priest for the Society of Jesus by bishop Juan Arzube on June 15, 1973. He came to Utah in 2003. His first assignment was at St. Mary Parish in West Haven; in 2007 he was appointed to St. Henry Parish in Brigham City and its mission, Santa Ana in Tremonton, the position from which he retired.
With his retirement and move to the Jesuit house in Los Gatos, the Diocese of Salt Lake City said farewell to the last of the Jesuit priests who have ministered in Utah. The Jesuits were invited to come to minister in the diocese in 1952 by Bishop Duane G. Hunt. In the succeeding years, Jesuits served in several parishes throughout the diocese.
Last year also saw the sale of Neil O'Donnell and Sons Mortuary to new owners, Shawn Wiscombe and Matthew Medford. The sale was called the end of an era by Msgr. Joseph M. Mayo, a retired priest of the diocese, because six generations of the O'Donnell family had been involved in the business. For many years, most Catholic funerals in the Salt Lake area were handled by the O'Donnells.
In other changes, Daughter of Charity Sr. Arthur Gordon, who had spent three years as executive director of Give Me A Chance, was reassigned to a ministry in Santa Barbara. Her successor at Give Me A Chance is Sr. Martha Garcia, DC.
Junuee Castro, who served as the diocesan director of Youth and Young Adult Ministry for three years, returned to her home in Arizona in March.
Maresha Bosgieter stepped down as director of CCS of Northern Utah.
Several prominent local Catholics passed to their eternal rest in 2020.
Barbara Stinson Lee died Jan. 2. Stinson Lee was editor of the Intermountain Catholic for 20 years. Her professional accomplishments were recognized in 2006, when she received the Master Editor Publisher Award from the Utah Press Association. Of the 46 recipients of the award up to that time, she was one of only six women.
Deacon Forrest Gray died Jan. 10. Deacon Gray was ordained a deacon in 2004 and served at Sts. Peter and Paul Parish, in rural Utah missions, and as the director of the diocesan Office of Deacons. He was married to Maria Cruz Gray, director of the diocesan Office of Hispanic Ministries; their youngest child is Fr. Christopher Gray, pastor of St. Mary of the Assumption Parish. Deacon Gray was a member of the 4th Degree of the Knights of Columbus, Marriage Encounter, the Cursillo and the Equestrian Order of the Holy Sepulchre of Jerusalem.
Sr. Mary Cecilia of Jesus, OCD, died Jan. 21. Sr. Mary Cecilia, a nun of the Carmel of the Immaculate Heart of Mary in Holladay, entered the monastery in 1976 and professed her Solemn Vows in 1982.
Sr. Paula Wellntiz, OLVM, died March 28. Sr. Paula arrived in Utah in 1992 and ministered in the Huntington area. She was involved with numerous ministries at Mission San Rafael, and offered her home as a place for retreats.
Deacon Jon Weis died March 8. Deacon Weis was one of the 14 men in the diocese's first class of deacons; they were ordained on Dec. 26, 1976. In his obituary, which he wrote himself, he said that he "served my God and my fellow Christians until I was no longer able to carry out my duties."
Sr. Jacinta (Maria Socorro) Millán, CSC, died April 15. Sr. Jacinta ministered in central Utah from 1984 to 1990; she returned to Utah in 1999 to serve at Holy Cross Ministries, and retired from them in 2009.
Sr. Marilla (Mary Marie) Dyer, CSC, died May 9. Sr. Marilla grew up in Utah, and first met the Holy Cross sisters at St. Joseph School in Ogden. She entered the Congregation of the Sisters of the Holy Cross from Salt Lake City on Jan. 30, 1944.
Sister Lucy Lalsangzuali, CSC died June 4. Sr. Lucy served her administrative internship at Holy Cross Ministries and at St. Vincent de Paul, Our Lady of Lourdes and J.E. Cosgriff Memorial schools.
JoAnn (Bagley) Seghini died June 19. The mayor of Midvale from 1998 to 2017, she served the city for 32 years, first with three terms as councilwoman, then for four terms as mayor. A St. Therese of the Child Jesus parishioner, she was named the parish's 2018 Woman of the Year.
The Rev. Wayne Epperley, C.S.Sp., died July 3. Fr. Epperley ministered for several years in Utah, including serving as parochial vicar at St. Bridget Parish in Milford and pastor of the parishes of St. George in St. George, St. Francis Xavier in Kearns and Our Lady of Guadalupe in Salt Lake City.
Sister Jean (Norma) Gibson, OSB, died Nov. 10. Sr. Jean was born in Utah and attended Notre Dame de Lourdes Catholic School. After college and professing vows, she returned to Utah and worked at St. Benedict's Hospital until her retirement in 1999. She was one of the founding members of Mount Benedict Monastery in Ogden.
Deacon Anthony J. Lopez died Nov. 24. He was ordained on Dec. 18, 1977 by Bishop Joseph L. Federal. During his more than 40 years of ministry, his assignments included Holy Cross Hospital, San Isidro Mission, and the parishes of St. Francis of Assisi and St. James the Just.
Sister M. Barbara Jeanne Fehr, CSC died Dec. 16. Sr. Barbara Jean entered the Congregation of the Sisters of the Holy Cross in 1949, and was a teacher, an advocate for the elderly and the poor, and was active in pastoral care in parishes and hospitals in several states, including Utah.
Requiescant in pace.