30-year marriage growing stronger every minute
Friday, Jan. 20, 2023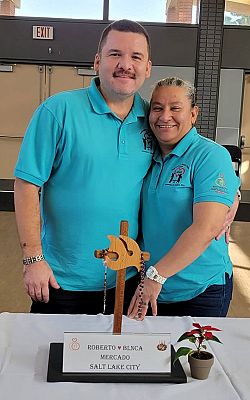 Courtesy photo
+ Enlarge
SALT LAKE CITY —While attending her parish's youth group 33 years ago, Blanca Mercado's life changed forever.
She was about 17 years old, a high school student in her hometown of Chihuahua, Mexico, when she met Roberto, who attended the same high school, but the two never crossed paths before they met in the youth group at San Jose de los Vientos (St. Joseph of the Winds Parish) "and from then the story is history," Blanca said, referring to the fact she and Roberto married on July 24, 1992, a little less than three years after they met.
On the day of their wedding it was pouring rain, but that helped the Mercados start on the path of serving together.
"Everything was wet, so Roberto and I started cleaning all the chairs for our guests," Blanca recalled. "The Mass was beautiful; we had the youth group choir and they also sponsored our wedding. ... It was very beautiful."
In the 30 years since they received the Sacrament of Marriage the couple has continued to serve side by side, and have learned that if they don't, problems always arise.
"Walking with Roberto has been a beautiful path," Blanca said. "Every day we keep getting to know each other more and more."
Their path has including welcoming two children to their life, serving twice as leaders of the Region XIV Spanish Marriage Encounter, becoming certified lay ecclesial ministers through the Diocese of Salt Lake City EMAUS program, and volunteering many hours at the Cathedral of the Madeleine, where they are parishioners.
"We kept on this road fighting, but also enjoying and overall accompanying each other," Blanca said.
The secret for the success of their marriage is that they always have patience, respect and communication with each other, and "we always have God as our pillar," Blanca said, adding that their motto is "the closer we are to God, the closer we are as a couple."
Being part of the Marriage Encounter program has helped them in many ways, Blanca said.
"People always identify us as the Mercados, not as Blanca or Roberto or the other way around," she said.
Nowadays couples tend to live their lives individually, "but when we do things together, things are more solid," she said. "I think that many couples have seen us as an example, because they see us going and serving at the church together, and something in them awakens and they start serving together or going to church together."
Being able to minister through Marriage Encounter has been gratifying as well as a privilege, she said.
"When couples who attend Marriage Encounter, after talking to us, decide to finally get married, it makes us feel blessed," Blanca said.
Having God present in their daily lives is important, she added, because with God "everything will be OK. … We are going to be good partners, good parents, good daughters and sons, good brothers and sisters."