A look at community, the Eucharist and the Civilian Conservation Corps in Utah, 1933-1942
Friday, Sep. 30, 2022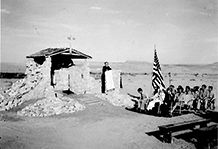 Diocese of Salt Lake City Archives photos
Photo 1 of 2
Michael Courtney
Archivist, Diocese of Salt Lake City
On March 31, 1933, Congress voted to create the Emergency Conservation Work Act, better known as the Civilian Conservation Corps (CCC). Envisioned by President Franklin D. Roosevelt, the CCC granted the president power to hire unemployed men during the Great Depression to work on state and federal lands to repair roads, control pests and prevent forest fires, floods and soil erosion.
Besides providing jobs, the CCC served as the men's educational, social and cultural nexus. There also was a religious component. At camps throughout the United States, "the moral and religious needs [of the enrollees] have not been neglected," according to Happy Days, the CCC's official newspaper. The Corps hired 200 chaplains, who in turn collaborated with local clergymen to provide pastoral care to the men. CCC leaders encouraged church attendance either by providing religious services at the camp or offering transportation to local churches. Men took advantage of religious offerings in droves, even more so than at home.
In Utah, these religious opportunities were hampered by the fact that, in many cases, CCC camps were near towns or cities in which few churches existed, in areas with sparse populations, or in communities in which The Church of Jesus Christ of Latter-day Saints was the only religious community available.
To address the problem of the few Catholic churches in Utah at that time, Catholic CCCers built chapels at their camps. For example, the men at a camp in Hunstville constructed an altar. At another camp in Hanksville, the Intermountain Catholic reported, "the boys are now completing a shrine to the Sacred Heart, a beautiful stone structure that will serve as a center of devotion for both Catholics and non-Catholics."
In April 1940, the Most Reverend Duane G. Hunt, fifth Bishop of Salt Lake City, dedicated the Sacred Heart Chapel. In a thank-you letter to Bishop Hunt, the camp welfare officer, Stanlis Milkowski, wrote, "the men of the company were very much pleased to find that their efforts were recognized and appreciated by their Bishop and other members of the clergy."
The Catholic Church in Utah recognized these chapels by sending priests to celebrate Mass and confer sacraments. The government assigned one Catholic chaplain – Rev. Frederick G. Lamb, out of Fort Douglas – to minister in the states of Utah and Nevada. The federal government also contacted the Most Rev. James Kearney, the fourth Bishop of Salt Lake City, looking for priests to serve as chaplains.
Bishop Kearney named Father Joseph P. Moreton (later monsignor) as a chaplain to the Civilian Conservation Corps. By 1940, with 39 camps in the state, the Most Rev. Duane G. Hunt, who succeeded Bishop Kearney, appointed several priests to the Corps chaplaincy. Fr. Moreton was assigned to five camps in northern Utah: Huntsville, Farmington Bay, Woods Cross, Brigham City, Cottonwood and Bountiful. Fr. Alphonse LeMay and Fr. John Sanders cared for camps in southern Utah. Fr. Martin Burke visited the Heber City group, while Fr. Joseph Gosselin visited the camp at Jericho.
Priests visited the camps to "hear Confessions, say Mass, and give a sermon. Sometimes the camp commander will ask the priest to give a general talk to the whole camp," according to the Intermountain Catholic.
Sometimes the men called upon chaplains when sick. Fr. Moreton reported that he provided "emergency religious ministration" to a man from Camp PE-223 who underwent an appendectomy at Salina Hospital.
Reports from 1936 to 1937 record that those chaplains served 2,904 men, distributed 10,000 Communions, heard 11,400 Confessions, and offered 102 First Communions, seven Confirmations and two conversions. In the end, camp officers noted that in camps with Catholic chapels the influence "toward order and discipline is noticeable and the boys have a deep appreciation of their opportunities to live up to their religion. Many of the young men have better opportunities to receive the sacraments than when they are at home."
The camps also kept the men connected to their home communities and parishes, most often through the camp chaplain. In November 1936, Fr. Lamb wrote to Fr. Moreton, asking him to visit a man from Ohio posted at Clover Camp to tell him that his father had died and his mother was in the hospital.
Another family, this one from North Dakota, obtained Fr. Moreton's address from their pastor and wrote to the priest in Utah about their concern that neither the federal government nor the diocese stationed a priest at the camp their son lived. The family felt that "boys soon get out of the habit of going [to Mass] if they have no chance of going at least once in a while," and requested that Fr. Moreton send a priest to hear Confession and celebrate Mass at least once a month at the camp.
In yet another example, a mother from Derry, Penn. wrote to Fr. Moreton, asking him to find out if her son was attending Mass. She stated that "he never missed a Sunday Communion," and asked, "would you find out and let me know if he goes to church and [receives] his sacraments, as he never mentions a word about church," or, at very least, "just talk to him."
Together, the Catholic men of the Civil Conservation Corps, their families and local Catholic clergy forged a unique community that offered the sacraments and comforts of the Church during a trying time in our nation's history.