Afghan refugee: In Utah, "We don't have to worry about our safety"
Friday, Nov. 12, 2021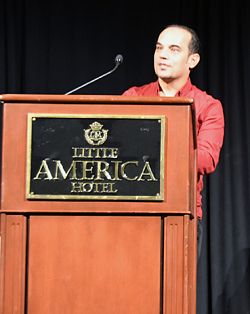 IC file photo
+ Enlarge
One of the recent Afghan refugees, Mahmoud Amiri, gave a special message at the Oct. 26 Catholic Community Services of Utah Humanitarian Awards Dinner.
Amiri, who had worked with the United States military forces in Afghanistan during the war, said he and his family left their native country because they feared for their safety. CCS sponsored the family to come to the U.S., and then gave them everything they needed so they could start a new life in Utah, he said.
CCS provided housing, food, clothing, money, a car, jobs and many other things, Amiri said. The CCS staff are amazing; "we consider them as part of our family," he said.
Coming to Utah was a blessing and the beginning of a new life, he said, adding that the main reason he came to America was for his children. "We want our kids to get an education and become whatever they are dreaming of," he said. Now, in Utah, his children can attend school "without fear; they can study whatever they want," he said. "We have freedom that we don't have to worry about our safety."
Amiri thanked CCS for all it has done for his family and the other Afghan refugees and urged those attending the dinner to support the organization's causes.