Anne K. Hochevar
Friday, May. 11, 2012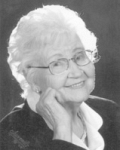 Intermountain Catholic
+ Enlarge
SALT LAKE CITY — Anne K. Hochevar, 96, passed away on May 2, 2012.
Anne was born on Oct. 8, 1915 in Rock Springs, Wyo. to John and Pauline Demshar Vehar. She married Joseph J. Hochevar in 1937.
She is survived by children John (Sharon) Hochevar and Mary Ann Rozsa, five grandchildren, nine great-grandchildren and a sister, Jeanie Braun.
A Mass of Christian Burial was celebrated at Saint Vincent de Paul Catholic Church.