Annual diocesan marriage celebration will be Feb. 11
Friday, Jan. 14, 2022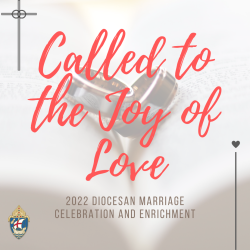 Courtesy graphic
Photo 1 of 2
SALT LAKE CITY— The Diocese of Salt Lake City's Annual Marriage Celebration & Enrichment, scheduled for Feb. 11, will be shorter than those of previous years due to the ongoing pandemic and to make it more accessible to married couples of all ages.
The event will begin with a 6 p.m. Mass at St. Vincent de Paul Catholic Church, celebrated by Bishop Oscar A. Solis, which will include a renewal of vows and a blessing of marriage. Following the Mass, the participants will enjoy light refreshments and a toast at the Benvegnu Center. Deacon Scott Dodge and his wife, Holly, will then share a short enrichment talk, "Called to the Joy of Love."
Deacon and Holly Dodge have been married for 28 years; they are the parents of six children.
The presentation will be based on the couple's experiences, said Deacon Dodge, who shared that his wife agreed to do the presentation "'as long as we can be honest and don't have to pretend we're perfect."
"The major focus will be on the secret to staying married, which is wanting to stay married and doing what that requires of you," he said. "It's pretty practical, at the end of the day."
The diocesan event "is for all couples, whether they've been married for a year or whether they have been married for over 50 years," said Crystal Painter, director of the diocesan Office of Marriage & Family Life. "All married couples need to be enriched; they need time as a couple. We get caught up in our lives and in our busy worlds, and sometimes we forget to care for our marriage, our vocation of marriage. It's so very important and that's why it's a huge part of the USCCB's National Pastoral Framework on Marriage and Family."
The USCCB document "Called to the Joy of Love: National Pastoral Framework for Marriage and Family Life Ministry," which was approved at the organization's June 2021 Plenary Assembly, was developed by the Committee on Laity, Marriage, Family Life and Youth. It is intended to help dioceses guide married couples and families in implementing the teachings and recommendations of Amoris Laetitia, Pope Francis' 2016 apostolic exhortation on the family. The document is available at https://www.usccb.org/resources/called-joy-love-national-pastoral-framework-marriage-and-family-life-ministry
"My hope is that this event will be a kick-off of sorts, to begin implementing the National Pastoral Framework on Marriage & Family Life," Painter said. "As we begin forming couples, providing marriage and family enrichment, and find leaders to begin creating marriage and family parish ministries, there will be more and more opportunities for ongoing marriage enrichment throughout the diocese."
Along with the celebration, the diocese is encouraging parishes to find ways to honor National Marriage Week, Feb. 6-12.
WHAT: Diocesan Marriage Celebration & Enrichment
WHEN: Friday, Feb. 11, 6-9 p.m.
WHERE: St. Vincent de Paul Catholic Church, and the parish's Benvegnu Center, 1375 East Spring Lane, Holladay
Early registration (by Jan. 31): $20/couple; after Jan. 31, $30/couple.
Register at https://www.dioslc.org/events/70X