Anonymous donation gives Good Samaritan Program funds for efficient equipment
Friday, Aug. 01, 2014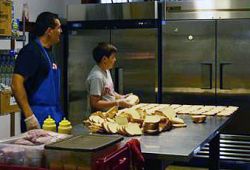 Lisa Deon
Photo 1 of 2
SALT LAKE CITY — The Good Samaritan Program received a $15,000 donation from an anonymous donor as a result of CentiMark's annual food drive held July 6-12.
The Good Samaritan program, an outreach of the Cathedral of the Madeleine, provides a sack lunch to any person who comes to the door. The anonymous donor became aware of CentiMark's national annual food drive through its Salt Lake office as part of a national effort to promote roofing through the National Roofing Contractors Association. CentiMark is a national commercial roofing company with corporate headquarters in Canonsburg, Pa., and 3,500 associates in 80 offices throughout North America.
"While roofing is our business, giving back to the community is our commitment," said Timothy Dunlap, CentiMark president/COO, in a press release. "We are proud to make a donation to the Cathedral of the Madeleine's Good Samaritan Program. In addition to delivering food and our CentiMark donation, our Salt Lake City associates learned about a need for socks for the homeless and purchased them as well."
Lisa Deon, CentiMark's Salt Lake office manager, said her office had collected food donations and also had delivered men's socks, which the Good Samaritan has been out of since May, she said.
"Many of the homeless people who take advantage of the meals literally live on their feet, so an occasional pair of new socks is a blessing to many of them," Deon said.
Along with the food and socks, CentiMark also donated an additional $500 to the Good Samaritan Program. After Deon informed the corporate office of the need for socks, "I was told that the corporate office was also going to donate an additional $200 gift card to buy more socks," Deon said. "Then an anonymous donor came forward and wanted to do more."
Father Martin Diaz, Cathedral of the Madeleine pastor; Patricia Wesson, Cathedral director of development; and Darren Williams, Good Samaritan program manager; determined the Good Samaritan was in need of some equipment to help run the program more efficiently, said Deon, so "the donor came forward with $15,000 to fulfill their wish list."
Deon chose the Good Samaritan Program as the beneficiary of her office's food drive because she often brings tours past the cathedral in her second job as a horse carriage driver in Salt Lake City.
"I see the homeless and low-income people at the Good Samaritan house and it is the personal contact that I have had with them that led me to the program," Deon said. "They do not judge the people who come to the door or ask questions, and that impressed me. Everybody needs a sanctuary at some point in their life; I've sent a lot of people there. I had an opportunity to give back and it snowballed."
Williams was surprised and grateful to receive the $15,000 donation, he said. "It was a very generous gift. We are in need of an automatic dishwasher and an ice machine," he said. "We are also in need of more socks because they are a necessity for both men and women year-round, but especially when it is cold and wet. We have people ask for them continuously every day regardless of the time of year."