Answering the Call to Walk with Moms in Need
Friday, Aug. 12, 2022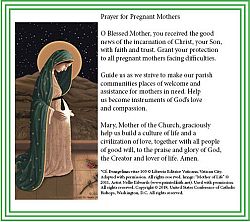 © 2011, Artist Nellie Edwards (www.paintedfaith.net). Used with permission. All rights reserved.
+ Enlarge
In Pope John Paul II's 1995 encyclical Evangelium vitae (The Gospel of Life), he emphasizes the important role of women in "bearing the gift of life to the world," and he thanks these "heroic mothers" for their devotion and sacrifice. He also recognizes the enormous challenges that expectant mothers may face, and he offers a challenge that continues to be relevant: "With great openness and courage, we need to question how widespread is the culture of life today among individual Christians, families, groups and communities in our dioceses. With equal clarity and determination, we must identify the steps we are called to take in order to serve life in all its truth."
Twenty-seven years later, we can't help but see the grim realities of those challenges experienced by so many women faced with an unplanned pregnancy. According to statistics from the Centers for Disease Control, in the United States in 2019, unmarried women accounted for 86 percent of all abortions. Of women who had an abortion that year, 45 percent had other children. In many situations, women face a lack of support from a partner/spouse, financial strain and lack of affordable housing, health insurance, day care, flexible work options and other obstacles to providing care for a child.
The U.S. Conference of Catholic Bishops Committee on Pro-Life answered Pope John Paul II's call when on March 25, 2020, the 25th anniversary of Evangelium vitae, they launched a nationwide effort called "Walking with Moms in Need." This effort invites parishes, with the support of their bishop and pastor, to look at the existing resources and services in their parish community for pregnant women facing difficult or unexpected pregnancies, and to look for gaps and find ways to increase outreach and support to these women.
Unfortunately, the program launch was greatly impacted by the global pandemic, and therefore was not launched by most parishes. However, with the decision made by the U.S. Supreme Court on June 24 which held that the U.S. Constitution does not confer the right to abortion, we now have the opportunity to take up this effort and reignite our parish communities to serve women who are in need.
The Walking with Moms in Need website (www.walkingwithmoms.com/) reminds us that "Women facing challenging pregnancies, or who are parenting young children in difficult circumstances, should see the Church as a place where they can find help. … But the Church must also honestly assess the pastoral and practical assistance that it currently provides to pregnant moms and families in need and how effective it is in communicating such help to those who need it most."
Everyone in a given parish community should know where to refer a pregnant woman in need. This effort hopes to help parishes do just that. How do you answer this call? Meet with your pastor or parish respect life coordinator. Use the Parish Resource Booklet that was provided by the diocesan Office of Family Life to all pastors, along with the abundance of resources on the Walking with Moms in Need website, as tools and inspiration for building a parish response.
This response will vary from parish to parish and will be determined based on the resources and capacity of each local community. The USCCB Walking with Moms in Need program leaders "encourage Pastors, and parish leaders to prayerfully discern the implementation of Walking with Moms in Need and truly allow the Holy Spirit to guide their efforts."
Prayer for Pregnant Mothers
O Blessed Mother, you received the good
news of the incarnation of Christ, your Son,
with faith and trust. Grant your protection
to all pregnant mothers facing difficulties.
Guide us as we strive to make our parish
communities places of welcome and
assistance for mothers in need. Help
us become instruments of God's love
and compassion.
Mary, Mother of the Church, graciously
help us build a culture of life and a
civilization of love, together with all people
of good will, to the praise and glory of God,
the Creator and lover of life.
Amen.
*Cf. Evangelium vitae 105 © Libreria Editrice Vaticana, Vatican City. Adapted with permission. All rights reserved. Image: "Mother of Life" © 2011, Artist Nellie Edwards (www.paintedfaith.net). Used with permission. All rights reserved. Copyright © 2019, United States Conference of Catholic Bishops, Washington, D.C. All rights reserved.
Crystal Painter is director of the Diocese of Salt Lake City's Office of Family Life.