Archie Marsden
Friday, Oct. 06, 2017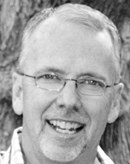 + Enlarge
Dec. 13, 1959 ~ Sept. 16, 2017
Archie Marsden passed away peacefully, surrounded by his loving family, on the morning of Sept. 16, 2017, from a battle with ALS. He is currently enjoying a much-anticipated reunion with family and friends who passed before him.
Archie was born in Belfast, Ireland, on Dec. 13, 1959, to parents Alan Marsden and Lilian Beatrice Ditty. He immigrated with his family to the United States in 1962. On Aug. 2, 1986, he married the love of his life, JuLee Ann Mariani. He had a successful career as a senior project manager at Intermountain Healthcare.
Archie was a husband, father and grandfather. He is survived by his loving wife, JuLee Ann Marsden, and their three daughters: Ammanda Ann (Adam) Lungren, Alyssa Ann (James) Mitchell and Aubree Ann (Justin) Brunner; his grandchildren, whom he loved and adored: Zoey Ann Mitchell, Brendan Archie Lungren and Myla Arina Mitchell; and his father. His mother preceded him in death.
Archie most enjoyed his time with JuLee and their many travels together. He also enjoyed time with family, playing games, telling stories, traveling, biking, golfing and camping.
A funeral Mass was celebrated Sept. 22 at St. John the Baptist Catholic Church. Internment followed at Mt. Calvary Catholic Cemetery.