Backer's Bakery has been in business since 1941
Friday, Jun. 26, 2009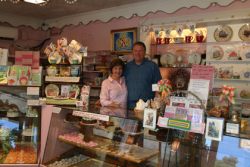 Intermountain Catholic
+ Enlarge
SALT LAKE CITY — Mrs. Backer's Pastry Shop has been in business since 1941.
"We are now the oldest family-owned Bakery in Utah," said co-owner Renee Backer. "The only one older was the bakery in ZCMI, and it is now closed. I've been told we are the oldest bakery in Utah, Wyoming, Idaho, and in the mountain states. We have a lot of third generations who come in and say they used to come in with their grandparents."
Although Backer's sells wedding cakes, their biggest selling items are birthday cakes and cupcakes.
When brides come into Backer's to order a wedding cake, they first browse through a book filled with all kinds of wedding cakes from which to choose. Most come in and already have an idea in mind. Renee tells them she needs at least two and a half to three weeks notice.
"This is like a home decorator," said Renee. "You have to find out how big of a cake they will need, where the cake will be placed, what their colors are, and what the theme of the wedding is going to be. I encourage people to serve the cake because why pay a lot of money for something that is just going to sit there and it is perfectly eatable.
"I think one of the biggest mistakes people make is putting their wedding cake in a gazebo or in a corner, and half the time nobody can see it," said Renee. "I will ask if they are having a buffet table, and most people say they are. I will tell them to use the wedding cake as the center piece. Why pay a lot of money for a floral bouquet. That way nobody will miss seeing the cake, then if you run low on desserts, start serving your cake. You don't have to move it and it is part of the buffet. I suggest this, if they can because I realize it depends on how things are set up."
Renee then gets a feel for what their decor so she knows how to match that to the decorations on the cake.
"Most people come in with ideas of what they want, and I work with them," said Renee. "I just guide them as to what will look good and what won't because I have been doing this for 37 years, and I know what works and what does not. If they say I think I want this and this, I say I will do it, but let me caution you, because it will look like this and this.
"Everybody wants something lovely," said Renee. "Most people are willing to say, yes, I see what you are saying, and I can guide them and help them along."
Renee said the range of prices for a wedding cake is $180 up to $900, although there is really no end. But the average cake that most people get is $460. That is right in the middle. The average diameter of the three-tiered cake is seven, 10, and 13 inches. There is a multitude of flavors and combinations from which people can choose.
"We are known for our unusual stunning flowers," said Renee. "About 80 percent of the cakes we decorate have flowers that are eatable, but some people also choose dots and ribbons."
The notion behind the wedding cake is that the first food you feed one another at your wedding should be sweet. The food should be sweet so that the promises which come out of your mouths may be sweet. The ceremony should be reflected in your vows: Why not promise to share life's sweetness with one another?
"When my mother-in-law trained me, she said it doesn't matter how good it looks if it doesn't taste good, they won't come back again," said Renee. "My husband Marty's mother and father, Martin and Phoebe, began this bakery in 1941. We bought it from them in 1983, and have been running it since then.
"Phoebe trained me for 10 years before they retired and stepped back, and we had to pick up the ores and either sink or swim," said Renee. "They had established a business and we did not want to sink. Martin was an incredible decorator. My husband literally grew up here. They brought him down and put him in a playpen while they worked. He really learned from his father. Now we are the older people and training our son, Wade, and dropping more and more on his shoulders. He will be the one who will pick up the business from us.
"It is a lot of work to run a bakery. It is not the Martha Stewart illusion," said Renee. "You do not see the people who come in early to set up or stay and clean up after her. When I hire help, I tell them this is physical work as well as fun.
"This bakery has such a history in the customers who have come in such as Governor Calvin Rampton, especially with the governor's mansion being just down the street," said Renee. "The busy city center used to be right here before it all moved out south."
Renee said the three things they sell the most of are birthday cakes, French pastries, a large assortment of cupcakes, and cookies. We also sell Danish pastries. People do not realize we also sell a lot of food-related items such as aprons, cupcake holders, and cake plates.
"I love to search for unusual things to display in the windows and the pastries on," said Renee. "Sometimes I will buy things I won't even sell for quite some time. We want it to be very pretty when you come in.
"The oldest recipe we have is our meat pies," said Renee. "We make them just like they were made when they came over from Germany. We haven't changed a thing in the recipe. They are pre-baked but not frozen. We do not freeze anything. We bake every morning, which is why the bakers have to be here early to get the batters made, the cakes baked, to be cooled enough to be decorated. When the people walk out, we want them to have a cake that is ready to go."