Bishop Oscar A. Solis speaks at interfaith gathering at Brigham Young University
Friday, Aug. 03, 2018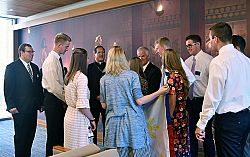 IC photo/Marie Mischel
Photo 1 of 2
PROVO — Bishop Oscar A. Solis was the featured speaker for the July 19 session of the Summer Interfaith Lecture Series at Brigham Young University.
The lectures, sponsored by the university's College of Religious Education, are for graduate students in religious studies with an emphasis in chaplaincy or religious education. Several members of the faculty also attended the lecture.
The Church of Jesus Christ of Latter-day Saints and the Catholic Church share some core values, said A. Blake Boatright, associate director of the chaplain program, who introduced Bishop Solis: Both churches stand against abortion and for the definition of marriage as a union between one man and one woman. They also teach submission to God, believe in Jesus Christ and seek to serve him, Boatright said.
Opening his remarks, Bishop Solis said he spoke "in spirit of friendship and interfaith dialogue." He thanked his hosts for the opportunity "for fellowship, learning and friendly conversation to foster understanding and respect among people of different faith traditions."
Such opportunities provide an antidote to the hatred and polarization in the world today, and strengthen bonds of commonality that foster unity and solidarity in building one global family, he said.
"I believe this is one of the reasons religions exist, to be an instrument of unity and harmony to the world. God has given the people of faith a divine and sacred mandate: to form the minds and mold the hearts, to have the disposition for unity and harmony so we can build a civilization of love and build God's kingdom of justice and peace in the world," Bishop Solis said.
Bishop Solis gave an overview of the basic tenets of the Catholic faith, and explained key aspects of the creed, the worship and the moral conduct.
"The foundation of our code of morality is rooted in the understanding that God in his divine wisdom has created men and women and humanity according to the image and likeness of God," he said, "so there is a sense of dignity and holiness in life that has to be safeguarded, protected, respected and nurtured. Life is holy. And that is where the value of the commandments and morality comes in, recognizing that every person that you meet has his own dignity and holiness. It's not his own, but it's something that was created by God in us, and that is why we have to treat one another with mercy, justice, compassion, kindness, because that is what Christ has taught us."
The Catholic Church prays for Christian unity and harmony among people of faith, Bishop Solis said, adding, "All of us – all churches and all people of faith – have one mission in the world: to build a civilization of love, to create a culture of peace and harmony and justice because that is the plan of God for us."
Interfaith dialogue and ecumenical movements are positive signs, he said, and he urged continued efforts to promote deeper understanding and establish closer relationships in spite of differences.
"With all the divisions and polarizations we are experiencing these days, we need these kinds of collaborations and partnerships," he said. "Time has proven that we can do good things together, and when we are together we witness the sacred mission and the nature of God's true church and members of our faith community."
Honest dialogue requires the openness and readiness to listen and to see others without judging them, Bishop Solis said, as well as sincerity and respect for others.
"When differences and distinctions surface, don't be afraid," he said. "It is an occasion to learn more of who they are, that you will be able to understand more of the other people and to embrace them as who they are."
As he concluded, the bishop said, "Let us join our prayers and our efforts together, that our honest intent for mutual respect and understanding can contribute in paving the way to unity, harmony and peace in our family, in our community, in our society and in the world."
Those attending the lecture said they welcomed the chance to hear the Catholic view.
"I'm interested to hear the perspective of a person who's not of our faith, but we're engaged in the same work – in helping people come closer to Christ," said Jon Pitts, a seminary teacher.
Similarly, Emilee Wadsworth, who is also a seminary teacher in the Master of Religious Education program, said she appreciated Bishop Solis' message that "despite differences we can grow in love and respect and be brothers and sisters in God's kingdom."
Bishop Solis was the second of four speakers in the 2018 Summer Interfaith Lecture Series. The other speakers were Colonel Jeffrey D. Hawkins, commandant of the U.S. Army Chaplain Center and School; the Rt. Rev. Carl Wright, Bishop Suffragan for Armed Services and Federal Ministries, Episcopal Church; and Captain Jack Lea, executive director of the National Conference of Ministry to the Armed Forces.
"We invite guests to come and express their faith, their journey of faith and also how that informs what they do on a daily basis, for the benefit of graduate students and the faculty here at BYU," said J.B. Haws, coordinator and Richard L. Evans Fellow at the university's Office of Religious Outreach.
Before speaking at the luncheon gathering, Bishop Solis toured the Provo Missionary Training Center, where LDS missionaries are trained in doctrine, proselytizing methods and, if necessary, a new language.