Bishop Solis dedicates new CCS building in Ogden
Friday, Jul. 23, 2021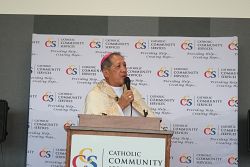 IC photo/Linda Petersen
+ Enlarge
OGDEN – On July 12, diocesan, community and Catholic Community Services officials gathered for a dedication and ribbon cutting of the new CCS building in northern Utah.
The event celebrated the success of CCS' Joyce Hanson Hall Food Bank. Bradford Drake, director of CCS, said he could not have envisioned that day when he was hired 13 years ago.
In 2008, Drake's first mandate from the board of trustees was to close the Ogden facility, which was struggling financially, he said. Instead, he asked to be given a year to turn things around, a feat which was achieved.
"It had nothing to do with me; it had everything to do with God," he said.
At the dedication of the new facility, Drake told of overhearing a conversation back then between a mother and her three little girls who had just received help at the food bank.
"I heard the 7-year-old say to her mother, 'Does this mean we won't be hungry tonight?'" he recalled. "That phrase and that little girl have stayed with me all of these years."
Drake also thanked Bishop Oscar A. Solis, diocesan officials, CCS board of trustees, donors, the architects, contractors, community, staff and volunteers for their support.
The contribution of The Church of Jesus Christ of Latter-day Saints, which housed the food bank's inventory at its local cannery during the year of construction and transition from CCS' old building to the new one, was mighty, Drake said. He also paid tribute to the Sisters of St. Benedict who, while no longer in the area, contributed to the program's success over many years.
Prior to dedicating the building, Bishop Oscar A. Solis addressed those in attendance.
"You're a living testimony of what we, the Catholic Church and community, is all about," he said. "It is about love, it is about compassion. It is about mercy. What a beautiful way to express this when people of various faith denominations, status of life, orientations are guided with one mission, one dream: to make a better society, to make a better humanity that reflects the will and design of the One God, a God who loves, a loving God who cares and the love of a God who saves."
The bishop said that he was pleased and proud of all the CCS staff in that community, "in this wonderful Catholic Community Services that radiates a different kind of light, a beacon of light in our world that is polarized by so many things. I hope that Catholic Community Services, the people that come here, the people who work here, the people that come here to feel the love of God will learn something. We are just one family, we are just one community and this one counts and this one is important."
The new building houses the Joyce Hansen Hall Food Bank, the St. Martha's Baby Project and Bridging the Gap programs and immigration services offices. Its architecture pays tribute to the previous food banks that operated in Ogden. More than 20,500 bricks were salvaged from the old facility to form a wall in the new building, along with a Hopkins School sign from the former building's original use as an elementary school. Murals throughout the building pay homage to those who have served the Ogden community over the years. The project was funded by The Huntsman Foundation and The ALSAM Foundation.
In 2008, Catholic Community Services helped 250 individuals a month in Ogden; today that number is more than 2,000. A staff of 10 distributes 3 million pounds of food annually and provides other services to those in need.