Bishop Solis to deacons: 'You are a slave of Christ'
Friday, Oct. 11, 2019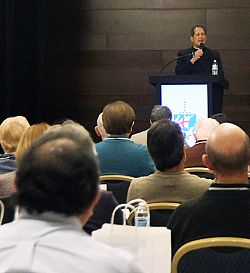 IC photo/Marie Mischel
+ Enlarge
PROVO — The deacons of the Diocese of Salt Lake City gathered with their spouses for their annual retreat Oct. 4-6 at the Marriott Hotel and Conference Center in Provo.
Following Evening Prayer on Friday night, Bishop Oscar A. Solis gave opening remarks in which he explained the role of the deacon in the Church, and also how he sees them collaborating with him and the diocesan priests to implement the Pastoral Plan.
Bishop Solis introduced the Pastoral Plan in 2018. Its five priorities are faith formation, vocations, stewardship, Eucharist and Catholic identity, and dignity of the human person.
As he began his remarks to the deacons, Bishop Solis commended them for taking time "to gather as a diaconate family, especially in the context of prayer or retreat. Prayer is the foundation of our life and our ministry. Without it, our life would be empty or less meaningful."
The retreat also was a chance for them to reflect on their ministry and the significance of what they do, he said.
The diaconate is a special vocation, he said; it is a response to serve at the altar and in charity.
"Unfortunately, there are a lot of not only deacons but priests who think that their life and ministry is to observe and not to serve," he said. "I hope that you don't have that attitude."
He suggested that the deacons reflect on how to carry out their ministry to serve faithfully, responsibly and joyfully. Responding to God's will requires actively listening to God in prayer, he said. "It is an ongoing discernment when you immerse yourself in the service of God and his people."
Quoting the Catechism of the Catholic Church, Bishop Solis said that, although deacons are called to be servants, "the sacrament of Holy Orders marks them with an imprint; an indelible character which cannot be removed, and which configures them to Christ, who made himself the deacon or servant of all."
For the deacons to have been called by Christ to be like him a servant and a slave "is a great dignity and honor it itself," he said.
The qualities expected of deacons include humility; they must say, as Jesus taught, "We are unworthy servants, we have only done what was our duty," the bishop said.
Deacons also must be generous with their time, talents and resources; be dedicated; offer selfless service and have integrity, he added.
Integrity "is the foundation of all other servant leadership qualities," he said. "Jesus calls us to walk in the way of righteousness and justice, so your life must be a reflection of who Christ is, of what we preach."
As he thanked them for their service, he said his goal is that every deacon will have a defined ministry assignment in the diocese "so that your gifts … will be utilized for the greater good of the Church and the people of God."
During the retreat, the deacons attended five sessions presented by Fr. Richard Gribble, CSC, professor of religious studies at Stonehill College and an author at "Homiletic & Pastoral Review." Fr. Gribble focused most of his sessions on Jesus' mission and message.