Bishop Solis to participate in school's fundraising concert
Friday, Apr. 26, 2019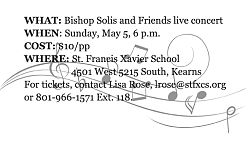 + Enlarge
KEARNS — An evening of live music featuring Bishop Oscar A. Solis will benefit Saint Francis Xavier Catholic School's music program.
'"Bishop Solis and Friends," a community event, will take place May 5 at the school.
"The principal decided it might be a fun idea to have coffee and listen to music, as a community builder," said Lisa Rose, the school's director of advancement.
The event came about after they were talking with Bishop Solis during one of his visits to the school and the idea was proposed.
"He liked the idea and agreed to join in," Rose said.
During the evening, a variety of styles of music will be presented, including jazz, soft rock, the harp, opera and Broadway.
Among the performers will be the school principal, Marianne Rozsahegyi, and her husband, John Van Wagoner; the school music teacher, Rachel Cooke; fifth-grade teacher Ms. Sayre; and Bishop Solis.
"There may be a few more guest musicians," Rose said.
The school has a choir formed by 22 students in grades 4 through 8, and an eight-member band.
"The event hopes to raise money for St. Francis Xavier's music program, specifically a portable sound system, which would allow the choir, band and other student musicians to play concerts and be heard well in a variety of venues," Rozsahegyi said.
"If you have never heard Bishop Solis play piano – this is your chance!" she added.
The evening is an adult-only event. Coffee and pastries will be served.