Bishop's Leadership Society thanked for support
Friday, Aug. 02, 2019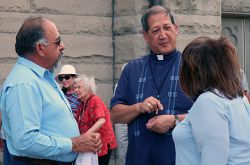 IC photo/Linda Petersen
+ Enlarge
SALT LAKE CITY – Members of the Bishop's Leadership Society came together at the Cathedral of the Madeleine on July 23 for a special Mass and a barbecue in the plaza afterwards.
The Mass was celebrated by Bishop Oscar A. Solis and concelebrated by Monsignor Colin Bircumshaw, vicar general; Fr. Martin Diaz, the cathedral rector; several priests of the diocese; and Fr. Jesril Intes, a visiting priest from the Philippines. They were assisted by Deacons George Reade and John Kranz.
The members of the Leadership Society contribute significantly on a regular basis to the annual Diocesan Development Drive, which generates operating funds for the diocesan ministries. They are usually honored at an annual dinner, but this summer Bishop Solis asked to meet with them at an additional event to celebrate their generosity.
"We are establishing some kind of tradition in order to bring the faithful of the Diocese of Salt Lake City close to the Mother Church … that the people of the Diocese of Salt Lake City are well-connected to the Cathedral of the Madeleine," Bishop Solis told those in attendance. "That is why you are here tonight ... in order for you to be acknowledged, to be affirmed, receive our deepest gratitude for your support of the Diocesan Development Drive."
Bishop Solis went on to say that it is a very challenging time not only for the Church in Utah but throughout the world. "We have been pulverized by so many negative issues and it is understandable that people would react negatively to everything we do," he said. "That is why we are doubly grateful for you that, in spite of all those negative things that are happening, you are still with us, that you continue to support us and to support our ministry in order to see to it that the Catholic Church in the Diocese of Salt Lake City continues to be strong, not only for this generation but for the next."
The diocese is committed to ensuring that "every individual, every faithful member of the Diocese of Salt Lake City will have a part of this continued growth of our Church here in Utah," he said.
Karin Hurley, director of the Office of Stewardship and Development, reported that the diocese was at 75 percent of its DDD pledge goal, which is 5.5 percent ahead of this point last year. If the diocese meets its goal, it will be the first time in over four years it will have done so, she said. More than 5,700 families contribute to the DDD.
"We want to go for 100 percent; we want to set the bar super high," she said. "We want to say that out of the 58,775 Catholic households that we have in the Diocese of Salt Lake City that every single household is contributing. We really believe that if we dig deep into our hearts saying that … 'Jesus is my only agenda,' that is achievable."
More than 100 people attended the July 23 event.
The Bishop's Leadership Society was established in 2004 to recognize those people who contribute significant annual gifts to the Diocesan Development Drive, which provides about 26 percent of the diocese's total annual budget. Donations are divided into several levels tied to the diocesan crest: Splendor of the Father ($10,000), Star of the Sea ($5,000), Light of Christ ($2,500) and Anchor of Faith ($1,000).