Brigitta Wolf Gornik
Friday, Sep. 23, 2022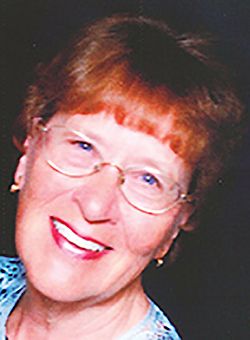 Courtesy photo
+ Enlarge
April 28, 1938 ~ September 11, 2022
Brigitta Wolf Gornik was born April 28, 1938, in Karkeln, East Prussia, Germany, to Hermann K. Wolf and Johanna L. Wolf, and died September 11, 2022 in Salt Lake City. Her parents preceded her in death. Brigitta grew up and was schooled in Vieselbach and Jena in East Germany. She immigrated to the United States in May 1956 and became a U.S. citizen in May 1965.
She married Siegfried A. Gornik on February 27, 1960, in Salt Lake City. They were married for 50 years. Her husband preceded her in death on February 5, 2011. She leaves behind her children Anita Klebba (Daniel) and Monica Marcinko (Patrick); grandchildren Jeremy (Erin), Stephanie (Geoff), Nathan (Ellie), Spencer (Jenna) and Meredith; one great-granddaughter, Graysen; and a sister, Regina Garner.
Brigitta received a degree in drafting in 1955 in East Germany. She worked as an architectural and structural engineering lady draftsman for 30 years in the U.S. Brigitta was a business manager at St. John Catholic Church, Bartlesville, Oklahoma. She retired in January 1999 after seven years.
She was a member of the Beehive Lacers, Utah and loved all types of handwork and started learning the art of tatting and bobbin lace in February 1995. She spent her retirement years making and improving her skills of lacemaking, designing and teaching and created 11 books in lace designs and instructions. In later years she volunteered by knitting baby hats for the Tooele Hospital and adult hats for the homeless. She also loved to bake for Christmas, church bake sales and her grandchildren. She enjoyed camping with the family, water skiing, snow skiing and world travel with her late husband.
A funeral Mass was celebrated on September 16 at St. Marguerites Catholic Church, Tooele, where she was a parishioner and vibrant member of the community for 20 years. Interment: Larkin Sunset Gardens Cemetery, Sandy. Please leave condolences for the family at www.larkinmortuary.com.
In lieu of flowers, please make donations to St. Marguerite Catholic School, 15 South 7th Street, Tooele, UT 84074.