Carmelite Fair 2022
Friday, Sep. 23, 2022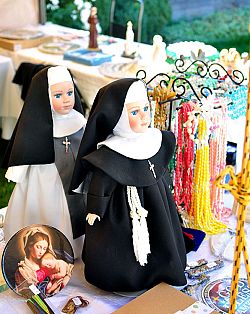 IC/Marshal Palm
Photo 1 of 6
After a two-year hiatus caused by the Covid pandemic, on Sept. 18 the Carmelite Fair returned to the grounds of the Carmel of the Immaculate Heart of Mary in Salt Lake City.
The annual event brings people from all over Utah to enjoy live entertainment, silent and live auctions, a variety of food and children's games, all in support of the cloistered nuns who live in the monastery.
In an email message, Mother Therese Bui, OCD said, "The Carmelite nuns would like to express their gratitude to the volunteers and supporters who have made the fair a success this year. All will be lovingly remembered in the sisters' daily prayers. May God reward all."
Among the fundraisers was a raffle. The prize winners follow.
$300 cash: Stella Bennet
iPad: Belen Randall
Traeger Grill: Margaret Kohlbeck
2023 Kia: Gary Emerson
The day began with a 5K run/walk. This year's winners follow.
15 and Under
1st - Thomas van de Kamp - Time: 21:51
2nd- Nicholas Manross - Time: 23:53
Women's
1st - Olivia Causse - Time:- 22:32
2nd - Meghan Flaherty - Time:- 23:52
3rd - Bridgette McNally - Time:- 24:03
Men's
1st - Noah Teben - Time:- 18:51
2nd - Soren Moller - Time: 19:15
3rd - DJ Matthews - Time:- 19:19