Carol Ann Imhoff
Friday, Nov. 26, 2021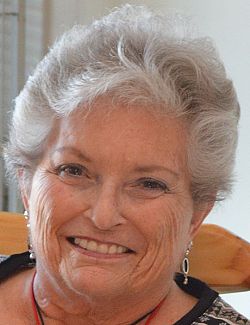 + Enlarge
Carol Ann Imhoff
June 15, 1934 ~ October 25, 2021
Our mom passed away peacefully at home October 25, 2021. Carol Ann was born in Los Angeles, California on June 15, 1934, a daughter of Neal and Frances Vogelsang. Her mother passed away when she was 9. Upon graduation from high school, Carol received a scholarship to Holy Cross Hospital Nursing School in Salt Lake City, where she started a 50-year career in the nursing profession.
In 1956, Carol Ann was active in the Scanlon Club, a social club for single Catholics. There she met the love of her life, Jim. They married in August 1957 at the Cathedral of the Madeleine.
Nursing was Carol Ann's calling. After obtaining her RN in 1955, she worked in the Salt Lake nursing community until the move to Ogden in 1968. There she went on become a successful rehabilitation nurse and advocate in the nursing community. She organized and opened the Supportive and Rehabilitation Units in McKay Dee Hospital and went on to earn her bachelor's in nursing in 1973.
Carol Ann started the Ogden Community Heart Club; was director of nurses, Bountiful Care Convalescent Center; past president and board member of Utah Nurses Association; past president and board member of Utah and national chapter of Association of Rehabilitation Nurses; Utah Heart Association board of directors; appointed to Diocesan Commission for Persons with Disabilities; selected to represent the nursing profession and the United States in the People-to-People Mission in the People's Republic of China in 1980; Clinical Faculty Nursing program, University of Utah and Weber State College; appointed to Utah Board of Nursing by Gov. Norm Bangerter in 1987.
Carol was a lifelong member of the Roman Catholic Church and spent her life in devotion to God. She was a member of Holy Family Parish, where she was a teacher of religious education and lector at weekly Mass.
Carol is survived by her children Jean, Bobby, Chris (Samie) and Mary; six grandchildren, Jennifer, Jessica, Beau, Christina, Cait and Allegra; brother-in-law Jackie (Theresa); niece Patty and nephews Peter and Jackie Jr. She was preceded in death by her husband Jim; grandchildren Heather, Jake and Joe; her parents; her brother Tom and niece Terry.
Special thanks to Madeleine Birch, our mother's constant companion, driver and loving friend, and to Applegate HomeCare & Hospice for their care of our mom especially during these last few weeks. Thank you, Kristi, for providing loving care to our mom over the years.