Carol Stuhff retires from choir school
Friday, Jun. 03, 2022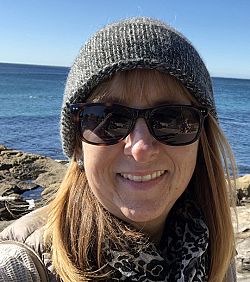 Courtesy photo
+ Enlarge
SALT LAKE CITY — Carol Stuhff, a third-grade teacher at The Madeleine Choir School, will retire this month after a 39-year career in education. Stuhff came to the school nine years ago after retiring from public education.
"It's just time," she said of her decision to retire. "I'm looking forward to being more flexible with my schedule, being able to go places when I want to go and do all those things that I don't get a lot of time for now."
Originally from Santa Ana, Calif., Stuhff attended Catholic schools growing up; it's where she discovered her love for teaching, she said. "I think it was something that was in my blood. I was the one who would stay after school and was always helping the teacher."
Although she briefly considered a career in photojournalism, Stuhff earned a bachelor's degree in Human Services and an elementary teaching credential from California State University Fullerton. She moved to Utah in 1981. She taught second and third grades in Jordan/Canyons School District at Midvale Elementary and Oakdale Elementary for 30 years before retiring.
But "I wasn't ready to be done teaching yet, and I came to MCS," she said.
Stuhff has loved her time at the school. Teaching at the choir school has been in many ways so different from public school because of the arts, particularly the music, she said. An experience she had about two years into teaching at the school illustrates that difference.
"I was walking across campus and the choir was practicing in the song school, and it was just so beautiful and unique and so different from my other teaching experiences," she said.
A musician who has been a member of several performing groups, including a year on the road with Up with People!, Stuhff has incorporated the art into her classroom.
"Music has just always been part of what I've done in my life," she said. "It's just a fun thing for me to do: find time now and then to play with the kids, teach them fun songs and make a connection that way. They always love it when I pull the guitar out, and it's something different most teachers probably haven't done. For me it's just a fun time to share the music with them."
Stuhff, who loves to travel, is planning a trip to Scotland in August with her husband, daughter and son-in-law. (She is also the mother of a son, Alex). Still, MCS students will get to see her from time to time; she is planning to substitute teach at the school next year.
"MCS is a wonderful community, and it has a community feel that you don't always have in public school," she said. "I hope the students look back one day at their time at our school and realize just how fortunate they have been to go to school here and have the experiences that they have here."
Stuhff will be missed, Principal Megan Randazzo said. "Carol is a teacher with a lot of expertise; she is very refined. She brought to the Catholics Schools a wealth of knowledge after a long history with public education. Right away she just seamlessly became part of our community, and she really has upheld the excellence that Catholic Schools expect in such great ways and uses the values of Catholic education in her classroom."
"One of my favorite memories that will be long-lasting is her teaching her students little songs and poetry and playing for them," she said. "It's a really nice, unique aspect of her classroom."
Katelin Turner, a first-grade classroom assistant who has been with the school for two years, will fill Stuhff's position.