Cathedral liturgist retires after 25 years
Friday, Jun. 15, 2018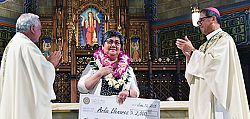 IC photo/Marie Mischel
Photo 1 of 2
SALT LAKE CITY — Arlita Llenares, administrator for liturgy and music at the Cathedral of the Madeleine, will retire at the end of June. She was honored for her many years of service during the English and Spanish Masses on June 10.
Bishop Oscar A. Solis celebrated both Masses, with Fr. Martin Diaz, the cathedral rector, and Fr. Patrick Elliott, a retired priest of the diocese, as concelebrants. At the English Mass, other concelebrants were Msgr. Colin F. Bircumshaw, vicar general; Msgr. J. Terrence Fitzgerald, vicar general emeritus; and Msgr. M. Francis Mannion and Msgr. Joseph Mayo, retired priests of the diocese. At the Spanish Mass, other concelebrants were Fr. Eleazar Silva, pastor of Sacred Heart Parish; Fr. Roberto Montoro, administrator of Saint Bridget Parish and its associated missions; Fr. Jose Barrera, administrator of St. Therese of the Child Jesus Parish; and Fr. Jorge Roldan, parochial vicar of Sts. Peter and Paul Parish.
Llenares "has been a true follower and sister of the Lord," said Bishop Solis as he welcomed congregants to the English Mass, referencing the day's Gospel reading, Mark 3:20-35, in which Jesus says, "whoever does God's will is my brother and sister and mother."
Llenares' ministry "has enhanced and built up the work of this beautiful cathedral church, and we give thanks to God this day for Arlie's untiring and generous service," the bishop continued. He also thanked her on behalf of his brother priests and the people of the diocese.
In the past 25 years, Llenares has organized the liturgies for the installation of three bishops, the ordinations of numerous priests and deacons, and countless baptisms, weddings and funerals as well as daily and weekend Masses.
At the end of each of the June 10 Masses, Llenares was presented with gifts thanking her for her service and ministry. Among the gifts was a trip to Hawaii and a framed poster commemorating the 100th anniversary of the rededication of the cathedral, which was in 2009.
"I cannot say how much that we appreciate and love you for all the services you given," Fr. Diaz said as he presented the gifts. "We cannot thank you enough for your great service to the community."
Many of those present at the Masses congratulated Llenares at the end of the celebrations and spoke highly of her.
"No matter how busy she was, she would always have an ear" to listen, said Marianne Friedrich, a cathedral parishioner who has known Llenares since she moved to the parish in 2001. "She would never push you aside [or say] 'I'm too busy.'"
"Her faith is the basis of everything she does," said Iris Nixdorf, a family friend. "It really is. She's just a very Christian woman. You see it in everything she does."
Since the Bernal de Alba family arrived as cathedral parishioners in 2004, Llenares has been a fundamental part of their lives, said Maria Jose Bernal de Alba. "Her availability, patience and love for service is reflected in every and each of the families that have been adopted by her. Since she has seen us growing, she has always listened, given advice and comfort the same way as a mother would. 'My children' – that's how she calls us."
Llenares helped their spiritual growth and motivated them to give their best in their ministries, Bernal de Alba added. "We are very blessed and lucky to have her friendship and to be able to have shared lots of memories with her. ... She is part of our family."
In an interview after the Mass, Fr. Diaz said the word "heart" best describes Llenares.
"She has given of her heart and soul in service to the cathedral, to the cathedral parish and to the diocese" to make every liturgy beautiful. Her job is to be responsible for "every single detail of every single liturgy," he said. "It's a job that she has done in an outstanding way. It's really just a wonderful joy to work with her and to call her a friend. To be a coworker with her has just been a real blessing for me."
Llenares said she has been blessed to work at the cathedral and make friends along the way.
"My faith has been a lot stronger and I feel like I'm closer to God," she said, adding that she has many memories and stories to tell from her years there. "God took me to this direction."
In retirement, she plans to help with her grandchildren, she said.