Cathedral of the Madeleine to celebrate feast day with new Our Lady of Guadalupe vestments
Friday, Nov. 26, 2021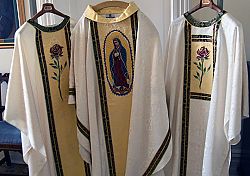 Intermountain Catholic
+ Enlarge
Salt Lake City — The Hispanic community of the Cathedral of the Madeleine has a deep devotion to Our Lady of Guadalupe. The annual celebrations that take place during Our Lady's feast day, which falls on Dec. 12, are a strong part of their heritage. Contributing to this tradition, last year several members of the parish wanted to purchase vestments for the clergy to wear specifically for the feast.
Because the cathedral is the mother church of the diocese, five sets of vestments were needed: one each for the bishop, two concelebrating priests and three deacons.
To raise the funds, some parishioners organized food sales while others sold religious articles; the parents of the religious education students organized a festival to raise money and the Knights of Columbus donated $1,500.
"It was a cooperation of the many different facets of the Hispanic community at the cathedral," said Father Martin Diaz, the cathedral rector.
Two of the leading community members behind the fundraising were Deacon Guillermo Mendez and his wife Socorro, Fr. Diaz said. "They have really animated the Hispanic community very strongly. I'm very pleased with their ministry. They're just excellent at pulling people together, asking for help, making sales and putting festivals together."
By early summer, all the funds had been raised and the five sets of vestments were ordered from a Canadian company. They arrived at the cathedral on Nov. 12 and were displayed in the cathedral's vestibule during the Nov. 14 weekend Masses so that the community could view them up close, Fr. Diaz said.
All of the vestments are white. The bishop's chasuble features the image of Our Lady of Guadalupe on its front and a rose on the back. The priests' and deacons' vestments all feature a rose.
According to tradition, when Our Lady of Guadalupe appeared to St. Juan Diego in 1531 on Tepeyac Hill near what is now Mexico City, she had him collect roses – which were then out of season – to take to the bishop as a sign of her appearance. When St. Juan Diego opened his cloak with the roses, a life-sized image of Our Lady was imprinted on the material. That image of Our Lady is copied on the new bishop's chasuble donated to the cathedral.
Being able to celebrate Mass in vestments specifically designed for the feast day is comparable to a person dressing in his/her best for a special occasion, Fr. Diaz said.
"We have an actual image of the Blessed Mother," he said. "We know what Our Lady of Guadalupe looks like compared to Our Lady of Lourdes or Our Lady of Fatima. Mary is already special, but with our Lady of Guadalupe the features of Mary as revealed to us are given to us."