Cathedral's Radio Feca begins Saturday talk show with Bishop Wester as guest
Friday, Dec. 21, 2012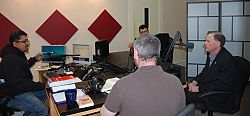 Intermountain Catholic
+ Enlarge
SALT LAKE CITY – Radio Feca, a Spanish-language faith-based program that is broadcast from the Cathedral of the Madeleine, has launched talk shows and this weekend they had a very special guest: the Most Reverend John C. Wester, Bishop of Salt Lake City, who spoke to all the listeners in Spanish.
The station has been on the air for about 18 months. The host, Omar Arano, preceded his introduction of Bishop Wester by saying, "We are celebrating Advent, we are waiting, praying and preparing for the arrival of Jesus."
Gregory Glenn, musical director of the Cathedral of the Madeleine, also was on the show. He asked Bishop Wester what would be his Catholic response to the school shootings in Connecticut.
"This is very difficult for all of us in the United States, especially for the families of the students; this is a very difficult thing to understand," said Bishop Wester. "This is something that they will have to live every day of their lives. It is good to admit there are no words to describe what we feel, that's why [it] is very important to pray to God in his grace, with his power…. God is a living God and we have to put everything is his hands. He is the hope that we all are going to be reunited in and with Him."
Bishop Wester mentioned that many people may be angry and frustrated and that's why it is very important to give more love and love more.
"We have to live with more gentleness, with more charity and compassion and forgiveness," he said. "This is a reminder of how we need to change the violence in our society and we have to always seek for the best, to help our brothers and sisters and especially the mentally sick ones."
Bishop Wester referred that sometimes people do not like to see those with mental illness, but "we need to help them. It's hard, but we need to pray. This is a time of grieving and to help the families."
Returning to the Advent season theme Bishop Wester said that unfortunately Christmas begins for some in September.
"We see all the businesses and the ads, but for our Catholic Church Advent is a time to prepare. In an Intermountain Catholic article we talked about, 'Pray, Ponder, and Prepare,' and this is very important through this season," said Bishop Wester.
Radio Feca broadcasts music 24 hours a day. Weekdays from 5 to 6 a.m. is a live show called 'Learning to Chat' (Aprendiendo a Dialogar) as well as a live show on Saturdays at 10 a.m.
Catholic radio is important, Bishop Wester said, because it nourishes and encourages the Catholic faith.
"For Latino cultures this is a very tangible reality for communities. The radio nourishes that special relationship; the radio is a wonderful medium because we can have it while we work… Also, as human beings we like to know that we are not alone, and just by listening people can feel 'Hey, I am part of a bigger community, a wider community,'" said Bishop Wester.
Radio Feca is transmitted through the Internet at www.radiofeca.com and radio station 1660 AM. In addition to Catholic music they post messages and links to other Catholic resources.
"We have learned that we can do a lot with the radio, "said Arano. "It does open doors."