Catholic Church's teaching on suicide has evolved
Friday, Oct. 16, 2020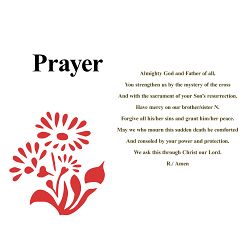 Photo 1 of 2
SALT LAKE CITY — Many Catholics who lose a loved one to suicide are often confused about the Church's teachings about the state of that person's soul. While the Church teaches that suicide is a grave sin, Church leaders now understand that no one but God can know the intent of the heart or the suffering of an individual that leads them to see that decision as their only way out.
"The Catechism informs us that although suicide is a grave matter, the person who committed suicide may not have had full knowledge or full consent and is therefore not fully responsible," Fr. Ken Vialpando, Vicar for Clergy, told the Intermountain Catholic.
According to the Catechism of the Catholic Church, "Grave psychological disturbances, anguish, or grave fear of hardship, suffering, or torture can diminish the responsibility of the one committing suicide. We should not despair of the eternal salvation of persons who have taken their own lives. By ways known to him alone, God can provide the opportunity for salutary repentance. The Church prays for persons who have taken their own lives." (CCC 2282-2283).
"When it comes to suicide, it's consoling to know that although we may want to judge a person who committed suicide, God does not judge by appearance or by circumstances; God judges by what is in the person's heart because he knows the joys and sorrows, smiles and frowns, laughter and tears, hopes and fears of each person and can therefore 'split the hairs' when it comes to a person's culpability," Fr. Vialpando said.
For several centuries, the Church taught that suicide was considered such a grave sin that those who killed themselves could not receive Church funeral services or be buried in a Catholic cemetery ground. However, with a modern understanding that the causes of suicide can be complex and those who take their lives may be suffering from mental illness or grave emotional stress, the Code of Canon Law of 1983 contains no such restrictions (1983 cic 1184). Even so, in the Church today the idea of suicide is so uncomfortable that conversations about it often are avoided.
Despite this, "we, as pastors, are always called by the Church to let all those who are grieving the loss of their loved one who committed suicide know that all is not lost, that Jesus, as the Good Shepherd, can and will leave the 99 sheep to go in search of that one sheep who is in most need of his mercy, compassion, forgiveness and love," Fr. Vialpando said. "Jesus, the Good Shepherd, can and will also provide us with the gift of faith to know that although our loved one 'slipped through our hands' because of suicide, he or she is now in the hands of God who has the power to carry that 'one' sheep into the kingdom of heaven."
In Utah, suicide is the leading cause of death among youth 10-19: on average, 37 youth in Utah die each year from suicide. A Utah Department of Health study found that those who attended religious services or activities once a week or more were half as likely to have considered suicide.
Fr. Vialpando said that parents, pastors and leaders "have the responsibility of impressing upon all of our youth and young adults, whether they are suicidal or not, that they are made in God's image; they have God's Holy Spirit within them; God has a plan and a purpose for their lives; and God is always there to throw them a lifeline, just as he proclaims in Jeremiah 29:11-12: 'For I know the plans I have for you,' declares the Lord, 'plans to prosper you and not to harm you, plans to give you a hope and a future. Then you will call on me and come and pray to me, and I will listen to you. You will seek me and find me when you seek me with all your heart.'"