CCS Director of Refugee Resettlement awarded Gandhi Peace Prize
Friday, Oct. 06, 2017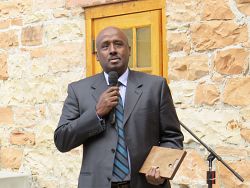 IC photo/Michele Swaner
+ Enlarge
SALT LAKE CITY —Aden Batar, director of Catholic Community Services of Utah's Refugee Resettlement program, was awarded the 2017 International Gandhi Peace Prize on Oct. 1 by the local chapter of the Gandhi Alliance for Peace at a celebration filled with song and dance.
Batar's life's work reflects his own story. He is a refugee who has helped refugees. He grew up in Somalia and was forced to flee his homeland when civil war broke out in the 1990s. He traveled alone to Kenya under dangerous conditions and was reunited with his family nearly a month later. After two years in a refugee camp, the family was cleared for resettlement and became the first Somalis to settle in Utah through the efforts of CCS.
Batar is an attorney, but when he arrived in Utah he worked menial jobs while he learned English at Utah State University. In 1996, he was hired by CCS to help other refugees, first as a case manager, then as an immigration law counselor and most recently in his current position.
At the ceremony, he spoke about the refugee crisis.
"This is the worst crisis that we have ever witnessed in the history of the world refugee crisis today," he said. "More than 65 million people have been displaced by war. With this, more than 25 million are in refugee camps today. They don't have anywhere to go back to. … When we hear our administration say, 'Syrians are not welcome in our country,' I think that is very shameful. I think we can do better than that. … We need to show leadership. We need to welcome the refugees in our community. Otherwise, what do we expect other countries will do, if the United States leads from behind?"
He urged attendees to contact their congressional leaders to let them know that the country cannot turn its back on those in need.
He and his wife came to the United States for better lives, he said. "We got the education that we needed, and my wife and I sacrificed so our children could have a better life and a better future. … That's what we wanted, and that's what every refugee and every immigrant who comes to this country wants. That's what America is all about."
Batar is very involved in community service and has been or is a board member for the University of Utah Alumni Association, Utah Center for Legal Inclusion, Salt Lake Interfaith Roundtable, Utah Nonprofits Association and United Africans of Utah. He has also served on other advisory boards and committees, including U.S. Conference of Catholic Bishops, the Center for Research on Migration and Refugee Integration, Utah State Refugee Services and Department of Workforce Services. He founded Somali Community Services of Utah and, as president of the Islamic Society of Greater Salt Lake, and helped establish the Islamic mosque and cemetery in West Valley City.
The International Gandhi Peace Prize, named after Mahatma Gandhi, is an international award given annually by the government of India to recognize contributions by individuals and institutions in bringing about social, economic and political changes through non-violence. The award began in 1995 to mark the 125th birth anniversary of Gandhi. The prize is open to all the individuals regardless of their nationality.