Catholic Community Services needs volunteers for in-person service, refugee foster care
Friday, May. 07, 2021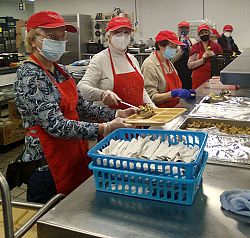 IC photo/Laura Vallejo
Photo 1 of 2
SALT LAKE CITY – As Catholic Community Services of Utah returns to in-person operation after almost 14 months of limited service due to the pandemic, volunteers are greatly needed to sustain the organization's mission.
Since 1945 CCS has served millions in need; every month the nonprofit agency serves more than 6,700 individuals who are homeless, nearly 270 refugee cases are managed and about 185,845 pounds of food is distributed in the Salt Lake and Ogden areas.
Prior to the pandemic, "we used to have a bunch of parishes, institutions and people coming to volunteer" to help prepare and serve hot meals at the St. Vincent de Paul dining hall in Salt Lake City, but those volunteers haven't returned now that in-person operations have resumed, said Monica Rich, the dining hall's volunteer coordinator. "The need is still here; people are still suffering."
The dining hall is open seven days a week; each day the dining hall needs about 60 volunteers to help prepare and serve the meals.
"This helps us to still follow the social distancing and health protocols so there is not concern about that, and they can feel comfortable about being with others," Rich said.
Volunteers must be 13 years of age or older and able to help for two hours.
"We have many shifts that people can help us with," Rich said. "Schools, organizations, families, individuals – all are welcome to help and volunteer."
Anna Gammangasso, a St. Vincent de Paul parishioner, is among the dining hall volunteers who have returned to help out. "Because of the pandemic there are so many people that are in need," she said.
If a person has a bit of time to share, "it really makes you feel good to help others," Gammangasso said. "It's time to be nice again, be joyful, and there is nothing more joyful than to help someone in need."
Another opportunity to help at CCS is with the organization's Refugee Foster Care Program, which is looking for foster care families.
"Right now is such an important time for families to consider fostering refugee and immigrant teenagers because the need is so high," said Erica Astle, manager of the Refugee Foster Care Program.
CCS assists in the resettlement of unaccompanied refugee youth under the age of 18 and places them with foster families. They are eligible to remain in the custody of CCS and receive services until the age of 21.
With the new federal administration looking to expand the number of refugees allowed to be resettled in the United States, Astle said, "We can only resettle more youth if we have more foster families. … When you decide to become a foster family, your worldview grows. You integrate another culture into your home. Your heart grows; you realize how capable we are of loving others as they are."
Being a foster parent is difficult, she acknowledged, "but with training and support, your confidence will grow because you will see that you can rise to the challenge."
CCS offers cultural and therapeutic training for prospective foster parents, and continuing education training and support groups once the youth are welcomed into a home.
"Each foster family is assigned a family consultant. The family consultant's job is to support the foster parents: to listen, to collaborate, and to help," Astle said.
The assigned family consultant is available for daily consultation and visits the foster home each month.
Foster families are reimbursed each month for the expenses of meeting the needs of the youth in their home, Astle said.
Fostering an unaccompanied refugee youth is meaningful, said Shauna, a current CCS Refugee Foster Care parent.
""If suddenly a war broke out and there was fighting and pillaging in my neighborhood and I was murdered, I would want to know that someone was willing to love and care for my child like they were their own. This is why I foster two boys from Africa," she said.