Catholic family pushing Good Samaritan legislation after teen's untimely death
Friday, Dec. 11, 2009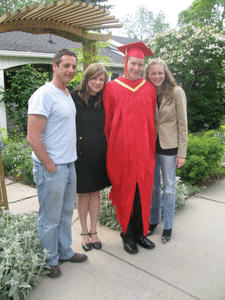 photo courtesy of George Starks, Jr.
+ Enlarge
SALT LAKE CITY - Michael Starks died Nov. 22, 2008 from alcohol poisoning. The 18-year-old Utah State University (USU) student, a Judge Memorial Catholic High School graduate who had been an altar boy at the Cathedral of the Madeleine and a volunteer at the Good Samaritan program, was participating in a fraternity hazing ritual.
Now his family is asking state legislators to create a law that would "limit criminal prosecution against a person of any age who, in good faith, seeks medical assistance for someone experiencing a drug or alcohol related emergency or receives medical attention for a drug or alcohol-related emergency," according to the website michaelstarks.org.
"What we are trying to do is endorse this idea of social responsibility, and we're using Michael's situation to highlight the importance of alcohol- and drug-related overdoses," said George Starks, Jr., one of Michael's older brothers.
The idea of a Good Samaritan law came from a University of Utah student who is supporting similar legislation, George Starks said. He decided to carry out the idea after he attended a legislative subcommittee meeting at the state Capitol, during which a USU student testified that "it was known around campus that there were at least five other students at the actual pledge ritual that knew Michael needed medical help and that they were too scared of getting in trouble and getting involved and so they walked away," he said. "And so after that, it just became very important to me to try to work on some type of policy for Utah."
He set the goal of collecting 18,000 signatures of those who would support the proposed legislation. He sent out an email to friends and family asking them to take petitions around. "All of a sudden these things started coming in from all over," he said, adding that he has heard that people have been approached with the petitions at grocery stores in Utah County and in Salt Lake on UTA buses, "It really took this very grassroots approach. I was very humbled by it. I own a café, and I've had high school students just show up and hand off...a page full of names that have been signed. It's been very moving."
Megan O'Brien collected signatures for seven days at Juan Diego Catholic High School because, she said, she's passionate about the issue. "Michael was so close to my age, and I have some friends that are really active with underage drinking," she said. "I don't they realize it can be dangerous. I just wanted to try to make them aware, and also the younger students at Juan Diego, that you can actually die from this. It's nothing to take lightly."
O'Brien, a senior at the school, collected about 300 signatures.
Starks has heard the stories of others who have lost family members to drug- or alcohol poisoning, which has strengthened his resolve to get the legislation passed. "Originally I did it because of what happened to Michael, but I really feel I have a sense of responsibility to the larger community now," he said.
Rep. Christine Johnson (D- Salt Lake) is working on the language of the bill that Starks is advocating. The difficulty, Johnson said, is that there's a "delicate balance" between legislation that encourages a person to help in these situations, and a law that could be perceived as encouraging reckless or illegal behavior. She already has opened a bill file that will bring the legislation forward during the legislative session that starts in January. "I am trying to find a balance to create a long-lasting legacy for Michael's family," she said.
Meanwhile, Starks has collected about 10,000 signatures. "I'm going to continue to go to schools, I'm going to continue to go to Jazz games, I'm going to continue to go Gateway and churches; I'll continue to go out and get signatures," he said. "We come from a very strong Catholic family here in the community. We've got a tremendous amount of support from various Catholic churches and priests around the valley, which we're very appreciative of. And I think that it goes back to the roots of our faith, that we are our brother's keeper and we do have a responsibility for those who are around us."
For information or to sign the petition, go to www.michaelstarks.org.