Catholic high schools shine in spring sports
Friday, May. 31, 2019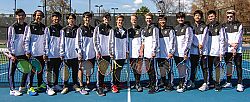 Courtesy photo/Karl Ward
Photo 1 of 3
SALT LAKE CITY — Spring sports wrapped up recently for all Utah Catholic high schools. Judge Memorial CHS took home two state trophies in boys soccer and lacrosse with solid performers in tennis, baseball, girls golf and track and field. Juan Diego CHS had strong showings in lacrosse, tennis and baseball, while St. Joseph's soccer did well and the female Jayhawks left their mark at the state meet.
Judge Memorial Catholic High School
This year four Judge players qualified for the state tennis tournament held May 9 and 11 at Liberty Park. First singles player Luke Pearson, a junior, was named the 3A state champion after defeating Shilp Shah of Waterford 6-2, 6-4 in the final game.
"We were so proud of Luke: he played so hard," coach Tracey Valentine said. "He really matured since last year. He was very focused; he set a goal for himself and he got there."
Third singles player Simon Briesacher, a junior, defeated Wasatch Academy's Adam Fu in the first round of state play. He was bested by Richfield's Parker Achenbach, a senior, in the second round. Second singles Josh Sneddon, a junior, earned a state berth but was defeated in the first round by Emitt Hinck of Richfield. Second doubles players senior Jerry Zhang and Honam Cao, a junior, also made it to state but lost in the first round to Delta's Eli Bliss and Brian Fowles. Judge tied Morgan for seventh place out of 22 schools with 7 points.
"This is our first year as head coaches," Valentine said of herself and Christie Brightwell. "We feel like our team this year is deeper and stronger than last year."
The two are assisted by Karl Ward.
Valentine said she expects another great season from Pearson and his teammates next year.
"We have a lot of great incoming players," she said.
In baseball, the Bulldogs played in the state tournament May 4 at Manti. They were defeated in the first round by San Juan 6-3. They went on to beat Providence Hall 11-4. Later, on May 9 at Salt Lake Community College they defeated Grantsville 6-3. That evening in the one-loss bracket, the Bulldogs lost to Carbon 6-0 at Kearns High School. They finished the season 8-4 in region and 14-13 overall.
The Bulldogs boys soccer team defeated Summit Academy 3-2 May 10 at Rio Tinto Stadium to take home the 3A state cup for the second year in a row. (See story p. 13.)
In girls golf, Judge's team of Ava Isaac, Annette Rooney, Victoria Locke, Lucy Callahan, Brooklyn Woods and Isabella Valles placed sixth in state at Round Valley Golf Course May 7-8 in a field of 12 schools with a combined score of 797.
The Bulldog boys lacrosse team took state in their division May 18 at Corner Canyon High School. (See story p. 12.)
Several Judge athletes had strong showings at the 2019 Utah UHSAA State Track and Field Championships at BYU's Clarence Robison Track May 16-18.
Junior Emily Malouf came in second in discus. Senior Allison Ryan came in third in the 3200 Meter race with a time of 12:00.35. She took fourth in a field of 16 runners in the 1600 Meter run with a time of 5:33.78. Junior Kayla Heideman came in fourth in the 100 Meter with a time of 13:06.
The relay team of Heideman, Ryan, Brecklyn Jones, Madi Tartaro, Peyton Ables and Shea Ryan took fourth place in Sprint Medley with a time of 4:36.98. At the state meet, the Bulldogs finished seventh overall in a field of 15 schools.
Juan Diego Catholic High School
In girls lacrosse the Soaring Eagle defeated Corner Canyon 12-10 in the 2019 UGHSLL Division II Championship May 21. (The June 7 Intermountain Catholic will have the story.)
The Juan Diego boys baseball team beat Cedar City 3-2 in state play May 11 at home. The Soaring Eagle fell to Lehi 5-3 later that day in their second game. In the consolation rounds May 15 at Roy High School, they lost 5-4 to Tooele. They finished the season 16-2 in region and 19-8 overall.
In the first round of state playoffs on May 8 at home, Juan Diego boys lacrosse beat Bear River 15-4. In the second round May 10, also at home, the Soaring Eagle beat Bingham in a close contest, 10-9. In third round play May 14 at Skyline High School, they fell to Pleasant Grove 14-10.
First-year coach Michael Burbank said he feels good about how the season went.
"The way Utah lacrosse is organized we played teams like Brighton, Skyline and Olympus that we wouldn't play in other sports," he said. "Still, we had some pretty good talent."
"I saw a lot of good things for building in the future," he added. "Four out of our six offensive players were sophomores."
Eight Juan Diego players received end-of-season recognition for their play this year.
Hunter Easterly, defense, was named a 2019 U.S. Lacrosse All-American, first team 2019 UHSLL All-State and positional MVP. Blake Davis, midfield, was also named first team 2019 UHSLL ALL-State and positional MVP. John Charles Herrmann, defense, was named second team 2019 UHSLL All-State. Dominick Fabry, Andrew Ballman, Colin Cameron, Will Anderson and Miller Cordial received All-Region recognition.
At the state tennis tournament held May 9 and 11 at Liberty Park, Soaring Eagle first singles player Sam Nelson, a junior, made it to the second round after defeating Orem's Davis Dial, 7-5, 6-0; In the second round, he was defeated by Desert Hill's Liam Duffin, 6-0, 6-4.
Second singles senior Conner Turner made it to state but lost to Logan's Dylan Jenkins in the first round, 6-0, 6-2. The second doubles team of junior Hawk Chang and senior Trent Zaffina also went to state, losing in the first round to Ridegline's Decker Robison and Caleb Buchmiller, 6-3, 6-0.
St. Joseph Catholic High School
Several St. Joseph's athletes excelled in 2A competition at the 2019 Utah UHSAA State Track and Field Championships at BYU's Clarence Robison Track May 16 to 18.
Senior Virginia Tomon took first place in discus and shot put. This was the third year of state wins in discus and the second in shot put for Tomon, coach Joe Loffredo said.
"She really is an amazing athlete," he said.
Senior Madeline Holl took third in 300 meter hurdles and fifth in 100 meter hurdles and high jump, and junior Katy Hurst came in seventh in 100 meter hurdles.
Katy Sugiyama, a junior, medaled in shot put and discus, taking sixth and eighth places, respectively, in the events.
The team of Holl, Katy Hurst, Ellen Rickerd and Cate Schmeling came in seventh in the girls 4x100.
The lady Jayhawks took fifth place overall at the meet despite entering only nine of the 16 events.
In the boys' events, Nick Garcia medaled in shot put (sixth place) and discus (eighth place). Freshman Nick Belko made the finals in 110 meter hurdles.
"It's not often that ever happens as a freshman," Loffredo said.
"I am very happy and thrilled with the results at the state championship; especially congratulations to Virginia Tomon for winning the state championship in two events," he said.
The Jayhawks boys soccer team won the first round of state play May 1 at home, defeating Gunnison 7-0. They were defeated by eventual second-place winner Rowland Hall St. Marks 4-0 May 4 at Rowland Hall.