Catholic schools donate tool kits for refugees
Friday, Mar. 08, 2013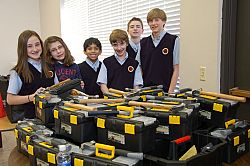 Catholic Community Services
+ Enlarge
By Danielle Stamos
Catholic Community Services
HOLLADAY — On Feb. 28 Utah Catholic elementary school students gathered at Saint Vincent de Paul Elementary to deliver their "Operation Tool-Kit" tools. Student ambassadors from the nine participating schools: Saint Vincent de Paul, Saint Ann, Saint Olaf, Our Lady of Lourdes, Saint Andrew, Blessed Sacrament, Saint Marguerite, J.E. Cosgriff Memorial and Saint Francis, brought the tools their classmates collected to help refugees in need.
As a part of Catholic Schools Week in January, students learned about the plight of refugees and how they can help; they collected new and gently used tools to help facilitate refugees' journey to self-sufficiency. Programs like this allow newly arrived families achieve their dreams.
One of the families who benefits from the communities' generosity is the Abdis. Ubah Abdi is a single mother of four children. The violence and draught in Somalia forced the Abdi family to flee their home.
"People were dying every day," Ubah Abdi said.
After years of living in refugee camps in Egypt and the loss of her husband, Abdi and her children were resettled in Utah last April. After only a few months Abdi was mastering the English language, had a driver's license, her own vehicle, was working as an interpreter, and her children were excelling in their studies at school.
Today, Abdi's dream is to go to college to become a nurse to help others the way she was helped.
"I am a mother and a father at the same time, but I have reached success in my life, because I am here," she said.
Abdi's story and the others like hers could not happen without community support.
Raul Yumul, the Refugee Volunteer Coordinator for Catholic Community Services of Utah (CCS), and Abdi received the 140 donated tool kits on behalf of CCS and all of the refugees in the community.
CCS resettles approximately 500 refugees a year. In the past two months CCS has seen an unprecedented number of entering refugees,84 new arrivals in February alone. Upon arrival, refugees are met by CCS staff and volunteers who will guide them for the next six months as they begin their new lives in America. However, CCS relies heavily on the support of the community for help with this task.