Catholic Woman's League annual luncheon to be Oct. 12
Friday, Sep. 13, 2019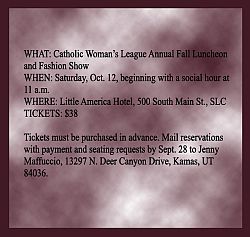 + Enlarge
SALT LAKE CITY — Members of the Catholic Woman's League are hoping to see many new faces at their Annual Fall Luncheon and Fashion Show, which will be held Oct. 12.
"This is a wonderful opportunity to connect with friends old and new while supporting worthy causes," Luncheon Chairperson Amy Kennedy said.
The luncheon, which will be held at Little America Hotel, will include a special fashion show by DeMarillac Formal Attire. DeMarillac is a program of Give Me A Chance, a Daughters of Charity of St. Vincent de Paul ministry that serves low-income women and children in the Ogden area. A past recipient of funds raised at the luncheon, the program provides retail training opportunities for low-income women and alteration work for graduates of Give Me A Chance's sewing classes.
"This is a great way for our members to see how their generosity at the benefit luncheon is impacting the community," Kennedy said.
In addition to the fashion show, there will be a silent auction and opportunity drawings. Funds raised at the luncheon are donated to two local charities each year. This year's recipients are St. Joseph Catholic Church in Ogden and Lost and Found.
St. Joseph's will use the funding in its homeless outreach program. Lost and Found, a charity based in Helper, is a nondenominational Christian program that helps provide rehabilitation to those addicted to opioids and other prescription medications.
In addition to the luncheon, the Catholic Woman's League hosts a tea in the spring and organizes monthly First Friday Masses at parishes across the Wasatch Front. CWL fundraising also supports the Carmelite nuns and scholarships for girls from the three Catholic schools to attend Girls State.
"We're a unique, not an elite, group," CWL President Linda Burt said. "Since we were formed by Bishop Glass, the emphasis has been on 'woman,' not 'women.' We work outside of the diocese's walls as Catholic women for our community at large. … Whatever a member puts into CWL, that's what she gets out of it. We try to reach out into the community to show the community at large Catholic women doing good work and going beyond our parishes to provide good stewardship to the state of Utah."
Burt, who has been a CWL member for 16 years, said it has been a great experience.
"I just think I like being able to say I'm a Catholic woman who is compassionate about the people of the state of Utah, all people," she said.
Burt urges all Catholic women of any age to get involved in the Catholic Woman's League, a sentiment shared by Kennedy.
"I encourage every Catholic woman to be a member of the Catholic Woman's League in addition to their parish women's group because it helps unite all Catholic women within the state of Utah, and we have such a tremendous legacy of Catholic women's organizations of leadership within our state, and there's such a benefit to belong to all those organizations," Kennedy said.