Catholic Woman's League provides scholarships for Girl's State, scholarships, educational endowments
Friday, Aug. 20, 2021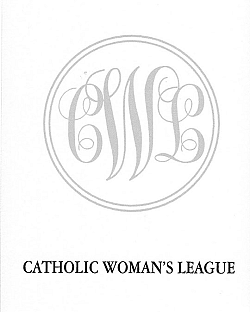 Courtesy photo
+ Enlarge
Linda Burt
As part of the Catholic Woman's League mission, we focus on education. One way we fulfill that purpose is with Girl's State scholarships, which we offer through the three Catholic high schools in Utah. Girls wanting to attend Girl's State the summer before their senior year of high school can apply through their high school counselor for the Catholic Woman's League Scholarship.
Girl's State is sponsored by the American Legion Auxiliary. Their website states: "The American Legion Auxiliary Girls State program is the country's premiere summer youth program designed to teach young women responsible citizenship and instills a deep appreciation for our great nation. … The American Legion Auxiliary Utah Girls State is a week-long program where girls learn more about the inner workings of our government at the city, county, state and national levels."
We proudly offer a scholarship to help with the cost of attending the weeklong Girl's State program. In return we ask the girls to share their experiences with the CWL members at our annual Spring Membership Tea.
While Girl's State on their college application looks great, attending Girl's State provides the girls with opportunities to get to know and work with other attendees of various religions and ethnic back grounds from around Utah. The stories and photos the Girls State representatives share at the membership tea is always a rewarding and proud part for the CWL members.
For information about Utah Girl State, visit https://apps.weber.edu/girlsstate or speak with the counselors at any of our three Catholic high schools.
The Catholic Woman's League established the CWL Endowment through the Catholic Foundation of Utah to increase our earning potential and support our mission statement. It's a permanent part of our legacy and one that we are very proud of. This past year our earnings helped us to support the Linda Simpson Education Endowment and The Inn Between organization. Because we were unable to host our annual fall benefit due to Covid-19 restrictions, we relied on the distribution from the endowment to help supplement our income in order to support these two deserving charities.
Did you know that you can make a gift donation to the Catholic Woman's League Endowment in memory of deceased friends and relatives? You might want to honor a friend's birthday or anniversary by donating to these endowments. No amount is too small or too big. What a great way to honor special friends and family! You may do this through CWL with a check payable to the Catholic Foundation of Utah or by going directly to their website; https://www.dioslc.org/foundation. Be sure to request that the funds be applied to the CWL Endowment. Any time a donation is made to our endowment we received a beautiful letter from the Foundation's executive director, Jennifer L. Carroll, informing us and so we may also say a heartfelt thank you.
As you can see, the Catholic Woman's League does great philanthropic work. We invite you to join us by becoming a member of the Catholic Woman's League. You may reach President Linda Burt at 435-649-9812 or Shirley Callanan (Dues and Database Chair) at 801-581-9277 for information about membership in this 105-year-old woman's organization.
Linda Burt is president of the Catholic Woman's League.