Catholics join plea for no guns on campus
Friday, Nov. 28, 2014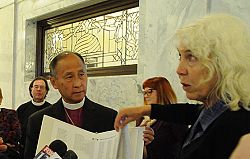 Intermountain Catholic
+ Enlarge
SALT LAKE CITY — College campuses in Utah can prohibit food, alcohol and water from being brought into an assembly, but they can't ban guns.
That irony was brought out Nov. 21 as a petition asking the Utah Legislature to allow educational institutions to limit guns at public assemblies was presented to the Governor's Office.
Among the group of about a dozen people who presented the petition were Jean Hill, Catholic Diocese of Salt Lake City government liaison, and Dee Rowland, a Saint Thomas More parishioner and chairwoman of the Gun Violence Prevention Center of Utah. Several members of the Episcopal Diocese of Salt Lake City, including Bishop Scott B. Hayashi, also were among the group; as were representatives of the Campaign to Keep Guns Off Campus, and concerned residents.
The petition was part of a nationwide effort by MomsRising, which "is a network of people just like you, united by the goal of building a more family-friendly America," according MomsRising.org.
The petition came about after Anita Sarkeesian canceled a lecture at Utah State University last month because she had received anonymous death threats. She was to have spoken about violence against women in video games.
"Our main concern with this petition was the rights of people to have intellectual freedom and free speech on campus," said Chelsi Archibald, a MomsRising representative from Ogden. "It's our concern as mothers that children are being prevented from being able to participate in assemblies and events where they have intellectual freedom."
Sarkeesian "was prevented from being able to speak, and she was speaking about violence against women, so that was an important issue that we wanted the students to be able to participate in and they weren't able to because the State of Utah allowed people who had threatened to kill this woman to come in with their guns," said Archibald, adding that she doesn't object to guns in general, but "our Second Amendment rights do not trump our First Amendment rights."
The petition stated in part "Utah cannot allow its campus gun laws to violate the First Amendment right to free speech. Public institutions of higher education should have the ability to protect college students and all those who want to engage in a full and open discussion on important issues, like violence against women."
State law prohibits public colleges and universities from banning weapons on campus.
More than 20,000 people from all over the United States signed the petition, including 320 Utahns, said Rowland, adding that people from around the country "are aware of this incident and aware of this bizarre law that cannot, even after a death threat, protect a speaker."