Catholics tour Salt Lake's historic Temple Square
Friday, Feb. 11, 2011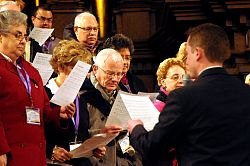 Intermountain Catholic
+ Enlarge
SALT LAKE CITY — A tour to Temple Square, world headquarters of The Church of Jesus Christ of Latter-day Saints, was scheduled as a special event prior to the start of the Southwest Liturgical Conference, which was hosted by the Diocese of Salt Lake City Feb. 2-5.
Dozens of Catholics from Utah and throughout the United States joined the tour.
"This is my first time in Salt Lake City and I understand this is one of the main sites to see," said Dominican Sister Jeanne Wiest, from St. Peter Fisherman Parish in Eagle River, Wisc.
Local Catholics were excited to share the state's culture with the visitors. "I like to see people from out of town see the Temple," said Rosalie Mirabelli, a parishioner of Saint Ambrose Parish in Salt Lake City. "I think it is important because it is our culture here. Even though I am Catholic I think it is important that we show our visitors Temple Square."
The tour was scheduled because people are curious about the LDS church "and they are interested in understanding each other better," said Dr. Juliana Boerio-Goates, a member of the SWLC organizing committee and parishioner of St. Francis of Assisi Catholic Church in Orem.
The official host for the tour was Elder Ben Banks, director of hosting for the LDS church. Others who spoke about the history of the Mormon Tabernacle Choir and the temple organ were Mac Christensen, president of the Tabernacle Choir; Richard Elliott, the choir's principal organist; and Ryan Murphy, associate music director.
"The choir is composed of 360 volunteer singers ages 25 to 60 – all exceptionally talented musicians," Christensen said.
All the choir members and the 110 members of the orchestra are unpaid volunteers who practice and perform weekly. Choir members rehearse and perform an average of about five hours a week, Christensen said. "This does not include touring, for which members often take time off from work, sometimes foregoing personal vacations."
Ryan Murphy, who used to work for a Catholic church in Boston, was appointed the choir's associate music director in 2009. He had the Catholic group sing 'Music of the Spoken Word,' a non-denominational work.
"They told me every one of you has a great voice; that you are very well tuned," Murphy said. "It's meant to be a program of music and inspiration."
Before singing, Murphy had the group stand up and do a warm-up exercise. "I want you to be able to say that you sang in this beautiful space with this fantastic organist," he said.
He divided those present into men's and women's voice. Everyone had a part, even if it was just singing melody.
After the song, Elliott explained the parts and history of the organ. He was appointed a Tabernacle organist in 1991, and he performs, tours and records with the choir.
The Temple Square tour also included the Conference Center, the visitors centers and the Welfare Humanitarian display.
"It's fascinating," said Sheryll Scott, from the Catholic Archdiocese of Galveston in Houston.