CCS Northern Utah to honor community heroes
Saturday, May. 05, 2012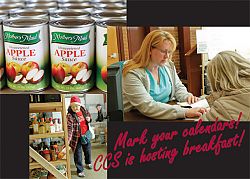 Intermountain Catholic
+ Enlarge
OGDEN — Catholic Community Services (CCS) will host its first awards breakfast at the Ogden Marriott Hotel May 16 to celebrate its 30th anniversary. The Most Rev. John C. Wester, Bishop of Salt Lake City, and CCS will honor community heroes Alan and Jeanne Hall, Great Salt Lake Minerals and Pam Parkinson.
"It's exciting to think that we've been a part of the Ogden community for 30 years, but we couldn't do it without our partners and our volunteers," said Marcie Valdez, CCS Northern Utah director. "When you think about the amazing work that happens here every day and the amount of help that is given, there is no way that would happen without all of the people who donate food, their time or a cash resource. CCS Northern Utah is the regional food bank for Weber County and provides food and other resources to other emergency food providers in the area. We assist households with homeless prevention services and case management and also provide approximately 600 baby layettes to mothers in need each year."
Thirty years ago Catholic Community Services of Northern Utah operated out of a small home on 24th Street next to Saint Joseph Catholic Church in Ogden, providing food for low-income seniors, said CCS Executive Director Brad Drake.
It then moved to the abandoned Hopkins School, where it is now located.
"A $1 million grant was made through the Alan and Jeanne Hall Foundation toward the renovation of the Hopkins School, which allowed us to move into the building, now known as the Joyce Hansen Hall Food Bank," Drake said.
"Alan and Jeanne are true advocates for people in need in our community," said Valdez. "They also continue to give us a significant contribution each year to help us with our operating costs and they are very involved in the services we provide."
The Hopkins School was a community need, said Jeanne Hall, a member of the Church of Jesus Christ of Latter-day Saints. "We feel like we are all brothers and sisters and food is something that none of us can go without."
The Halls were offered the opportunity to name the building, which they did after Alan Hall's mother, who, when she saw a need, "she would act upon it," said Jeanne Hall.
Great Salt Lake Minerals volunteers are heroes for providing holiday basket donations, said Valdez. The company provides a cash donation to assist with CCS' Thanksgiving food baskets; for the Christmas baskets they purchase everything needed and also provide fresh produce and hygiene items, she added. "If they have money left over, they buy us staples such as rice, beans, noodles, baby formula and diapers. When they bring the food they also bring volunteers to help organize and put the baskets together."
In 2008, Great Salt Lake Minerals decided they wanted to give back to the community and sought out the CCS food bank.
"We produce potassium fertilizer that serves farmers who feed our country, so we wanted to focus on a food bank," said Sherry Tolman, public relations coordinator. "With the economy, the need for food was increasing and we could easily just write a check. But we realized CCS was inundated with work so we do the work for them. This past year we were unable to meet CCS' needs alone, so we asked our top 13 vendors to donate $1,000 and we greatly increased what we've been able to do in the past."
Pam Parkinson chairs the CCS Northern Utah advisory board.
"Pam has done an amazing job coordinating the Sew for Humanity Garden for the last three years," Valdez said. "She also helped us enlarge our Backpack Give-a-Way program, initiated the Biggest Heart food drive that brought in 17,000 pounds of food and coordinated the Business-After-Hours outreach project with the Ogden/Weber Chamber of Commerce."
Parkinson said she has always had a love for the food bank. "I love helping those who are less fortunate; it's always been important to me. We've also made financial and food donations for many years," she said.
What: CCS Northern Utah Awards Breakfast and 30th anniversary
Where: Ogden Marriott, 247 24th St. in Ogden
When: May 16, 7:30 a.m. to 9 a.m. (Registration begins at 7 a.m.)
Cost: Free
RSVP: call 801-428-1230 or email jlazaro@ccsutah.org. Sponsorship and table captain opportunities are also available.