CCS of Northern Utah honors benefactors
Friday, May. 11, 2018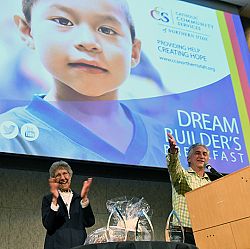 IC photo/Marie Mischel
+ Enlarge
OGDEN — Almost 500 people who support Catholic Community Services of Northern Utah gathered at the 11th annual Dream Builder's Breakfast on May 2 at the Ogden Eccles Conference Center to recognize the organization's benefactors.
The fundraising event supports CCS of Northern Utah's programs, which in 2017 provided 693 layettes to needy mothers through the St. Martha's Baby Project. Many of the mothers also attended parenting classes at CCS and received case management.
Also last year, CCS partnered with United Way to give 2,800 backpacks filled with school supplies to children, and partnered with the Knights of Columbus to give away 661 coats to those in need. CCS' Bridging the Gap program provided 226,878 weekend meals to 33,733 children at local elementary schools, and the Joyce Hansen Hall Food Bank helped 59,565 people, more than half of them children, with 2.5 million pounds of groceries, hygiene items and pet food.
"A shockingly high number of families are living only one paycheck away from disaster. A lot of them suddenly find themselves in a situation where – whether it's due to illness, divorce, death of a family member, domestic violence – they have to choose between paying rent and utilities and purchasing food," said Maresha Bosgieter, CCS Northern Utah director.
Among the dignitaries who attended the breakfast were Bishop Oscar A. Solis; Weber County commissioners James Ebert, Kerry Gibson and Jim Harvey; Weber County Assessor John Ulibarri; Roy City Mayor Robert Dandoy; and Utah Representative Mike Schultz. "As you look around the room this morning, there are so many amazing, wonderful businesses and individuals who, while they may not necessarily have everything, are certainly blessed, and they have partnered with CCS over the past 36 years to be able to allow us to do the wonderful work that we do here in northern Utah," Bosgieter said as she thanked them for their generosity.
Benedictine Sr. Stephanie Mongeon gave the opening prayer. In her comments, Sr. Stephanie said each time she returns to Utah it is a gift of God, and she told those present that she brought love and prayers from the other Benedictine sisters at the motherhouse in Minnesota.
Several awards were given at the breakfast.
The 2018 Community Advocate Award was presented to the Ogden Police Department, whose resource officers have been present at almost every Bridging the Gap program, Bosgieter said.
"They are there to lend a hand however we need them, whether it's pitching in and passing out food, directing traffic evenly between the lines (which isn't as easy as you would think sometimes!) or just providing comic relief and interacting with the kids in a positive environment," she said, adding that because of the children's interactions with the officers, "you could tell their entire view of the police department had been changed just by the kindness those officers showed them."
Michael Joseph was presented with the A Legacy of Compassion award. A CCS Advisory Board chairperson for two years, Joseph also worked with Holy Family Church on their new building, and with both St. Joseph schools on building projects. In addition, he served on the Ogden Trails Network, the board of directors for Family Counseling Services and United Way of Northern Utah. Among his most recent personal donations to CCS was a truck to help the Bridging the Gap program serve more schools, Bosgieter said.
"Michael Joseph is a doer, and has a history of helping turn things around," she said.
The 2018 Humanitarian Award was presented to Robert Hunter, who has served as the Ogden city manager, a Weber County commissioner, chairman of the Wasatch Front Regional Council of Governments, and vice-chairman of UTA. A co-founder of the Ogden Nature Center, he recently retired as president/CEO of United Way of Northern Utah and now runs the Weber State University Olene S. Walker Institute of Politics and Public Service.
"Bob cares so deeply about every living person, and our community as a whole, and it shows in his actions every single day," Bosgieter said.
Bishop Oscar A. Solis was the final speaker at the event.
"It is a great sight and an inspiring moment, and truly heart-warming when people of one mind and one heart gather together for a common dream, that is to assist those especially in need in order to improve their lives and make better our community and our society," the bishop said.
Those present at the breakfast are engaged in a lofty endeavor, the bishop said. "Your presence and generosity give light to people living in the darkness of wants and needs for human dignity, decency and respect. You, being present here, are the antidote to the culture of indifference and insensitivity to the plight of our neighbors, especially our poor brothers and sisters. With your support and collaboration we are building a better humanity, a better society to live in."