Children share their faith at Vacation Bible School
Friday, Jul. 16, 2010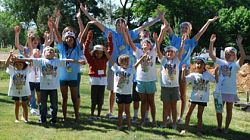 Jeri Montella
+ Enlarge
By Christine Young
Intermountain Catholic
MONTICELLO - "Vacation Bible School is a beautiful way to share your faith and to watch for God in your everyday life," said Kathie Lund.
Kathie and her husband, Allen Lund, began Vacation Bible School (VBS) at Saint Joseph Parish in Monticello four years ago as a family service project with their six children and 22 grandchildren. "We wanted to give back and to share our faith and this was a way to teach our grandchildren to do the same thing," said Kathie. "It is just as powerful for us."
The Lunds, who live in Pasadena, Calif., were born and raised in Utah. Kathie graduated from Saint Joseph Catholic High School and Allen graduated from Davis High School. They have a ranch with a chapel in Monticello and come back to Utah several times a year. They will celebrate their 50th wedding anniversary July 16.
"We started VBS because our son-in-law is a counselor for a boys' high school in California and challenged us," said Kathie. "He said when students are applying for college, they write down family service projects as having a big impact in their lives. So we decided VBS was a way we could give back."
As a Catholic, living in a small community where most people are of a different faith and there are few community activities is difficult, she said. "VBS brings children together and is set up as a beautiful celebration of our faith," she said. "This year's theme was 'The High Seas: Exploring the Mighty Love of God through the Word of God.' The Bible verses focused on the Apostles Peter and Paul."
There were 66 pre-kindergarten through sixth grade campers; and junior crew leaders who were in the seventh grade or older. There were seven stations through which the crews rotated to experience the daily Bible story in a hands-on way, focusing on the saint of the day, having small-group discussions connecting their Bible experiences to real life experiences, doing arts and crafts and eating snacks based on the theme such as Peter's jail mix.
"There also was a video segment which featured Chatter Chipmunk, who explained the daily Bible point," said Jeri Montella, St. Joseph Parish director of religious education. "We transformed the parish into a ship, and the set was so real one little boy thought he was on a ship, because another little boy told him it wasn't really a ship."
Their activities also included an ice cream social for the teens at the Lund's ranch. "The kids started out kind of shy, but by the end of the night they were laughing and having a good time," said Montella. The week concluded with a children's Mass and a dinner so parishioners could see the sets and what the children had been doing.
"Every year we have more children who participate in VBS," even though they don't advertise the event," said Montella. "It has been really good for the kids to have the Lund family come to Monticello and bring their 22 grandchildren. It helps them realize the Catholic Church is larger than what they normally see. They also bring a priest with them because we don't have a resident priest."
"Father Gerard O'Brien, pastor of Assumption of the Blessed Virgin Mary in Pasadena, celebrated Mass every evening in our chapel for the adult leaders," said Kathie.
Following VBS, the campers from Monticello and Blanding rode on a float in the July 4 parade in Blanding and carried a banner celebrating St. Joseph Parish's 75th anniversary which will be held in August, Montella said. They also will participate in the July 24 parade in Monticello.