Children's artwork helps build homes in Haiti
Friday, Jan. 12, 2018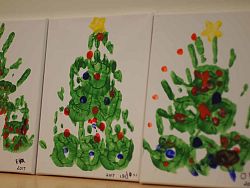 Photo Courtesy of Kevin Cummings
+ Enlarge
by Kevin Cummings
Special to the Intermountain Catholic
LAYTON — During Advent, the children in St. Rose of Lima Parish's Christian Formation program teamed up with Cross Catholic Outreach to help build homes for the poor in Haiti.
The effort, mediated by Cross Catholic Outreach, allowed the St. Rose of Lima community to raise funds that will go directly to the construction of safe, durable homes. For the St. Rose of Lima group, the goal was to involve as much of the community as possible.
The parish's children embraced the project and looked for a way to raise funds. Catechist Pam Rockwell suggested an art show, so children from kindergarten to sixth grade made art projects during the first two weeks of Advent.
"It was a good way to let the children be involved," Rockwell said. "We wanted them to see that they could make an impact."
On the third Sunday of Advent, the Christian Formation program hosted an art show. Parents and other members of the parish community were invited to view the art and to select pieces they wanted to take home. There was no charge for the art, but those who took a piece were encouraged to make a voluntary contribution to the project.
"Seeing all the wonderful art from the children gave me goosebumps," Rockwell said.
"It is a small joy to see the imagination of a child – these pieces were ingenious and came from the heart," said Fr. Clarence Sandoval, pastor of St. Rose of Lima Parish.
Other parish groups got involved as well. The St. Rose Knights of Columbus offered to donate the proceeds from their December breakfast to the project and the parish took up a collection at Christmas.
By coming together during Advent, the St. Rose community was able to provide housing for the impoverished in Haiti.
Kevin Cummings is a St. Rose of Lima parishioner.