Christine Decker recalled as 'a truly admirable woman'
Friday, Jan. 12, 2018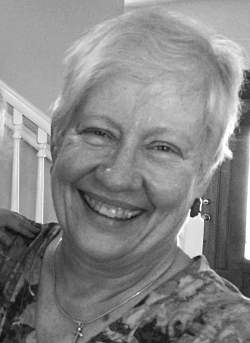 + Enlarge
Christine S. Decker died of cancer on January 2, 2018 at home, surrounded by her family. A Cathedral of the Madeleine parishioner, she served on the Parish Council, on the board of St. Vincent de Paul, as a chairperson of fundraising for the Cathedral restoration, as a lector, communion minister, teacher in the Rite of Christian Initiation for Adults, and a Good Samaritan volunteer. She also was a judge in the Third District Juvenile Court.
"As a devoted member of the laity, she offered the skills, talents and resources entrusted to her by God in service to our local community and to the Church in Salt Lake City," said Fr. Martin Diaz, rector of the cathedral, during the Jan. 6 funeral Mass.
"For many years she graciously served in the legal community and in the judiciary of Utah, working and caring for young people who found themselves in troubling and difficult circumstances. Cooperating with many priests, deacons and religious women, Chris generously gave of herself to build up the Church for its service to the Gospel, working in particular to care for those inquiring about our Catholic faith and also for the many troubled, lonely and poor who sought assistance from the cathedral," he added.
Concelebrating the Mass were Msgr. Colin F. Bircumshaw, vicar general, and many priests of the diocese. Numerous deacons of the diocese assisted.
During the homily at the funeral Mass, Msgr. M. Francis Mannion said he became very well acquainted with Christine during his tenure as rector of the cathedral from 1986 to 2000.
"She stood out as a most dedicated parishioner and a great example of how a Christian – indeed, any person, should live," he said. "All her life, Christine did those things that Christians and all people of good will are called to do," exhibiting great love, dedication, patience and empathy for her family, for her extended family, the poor, the hungry and those in distress.
As a judge "she saw her role not merely as a legal functionary but as a kind of mother. She would say that as legal guardian of over 150 children, she was called to be a kind of substitute parent," Msgr. Mannion said.
At the end of his homily, Msgr. Mannion asked those attending the funeral Mass to "identify that one thing about Chris that you have loved and admired the most, and then that you will go out and act on that legacy for the years and months to come. What a great legacy would arise from this congregation if we acted in this simple way."
Christine S. Decker was born June 5, 1949 to Richard and Catherine Sutkus Schell in Wexford, Penn., the first of three children. She married Rod Decker in 1972.
She graduated Phi Beta Kappa from Georgetown University, earned a law degree from the University of Utah, and was the 79th woman ever admitted to the Utah Bar. Christine practiced law in Salt Lake City and served as a judge in Third District Juvenile Court. She received the Scott M. Matheson Award for service to troubled youth, and was selected Woman Lawyer of the Year.
Above all, Chris was a wife, mom and grandma. She and Rod had three children: Ben (Tessie), Megan (John) and Rachel (Adam) and six grandchildren: Moreo, Waylon, Jack, River, Emmett and Adelaide. Christine read stories, led scout troops, baked cakes, sewed costumes, supervised homework, told jokes, kissed children good night, and made life good for everyone close to her.
The funeral Mass was celebrated on January 6, 2018 at the Cathedral of the Madeleine, with burial at Mt. Calvary Catholic Cemetery.
In lieu of flowers, the family requests donations to the Cathedral's Good Samaritan program at utcotm.org/support-us.