St. Joseph CHS Class of 2023
Friday, May. 26, 2023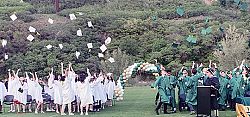 IC photo/Linda Petersen
Photo 1 of 2
OGDEN —On the beautiful evening of May 19, the air at St. Joseph Catholic High School's soccer field seemed filled with a spirit of joy as 53 seniors, their teachers, family and friends participated in a school tradition for the first time in four years — outdoor graduation ceremonies. The pandemic curtailed the celebration in 2020 and heavy rain meant a last-minute shift to the school gym in 2021 and 2022. This year, however, the tradition was joyfully resumed.
Following the procession of the graduates to their seats to "Pomp and Circumstance" and an invocation by Nikki Ward, associate superintendent of Utah Catholic Schools, awards recognitions were read by student body officers Josh Ortiz and Regan Belko.
Teacher of the Year Kase Johnstun, himself a St. Joseph CHS graduate, gave the keynote address. He began by praising the graduates as a "uniquely talented, genuinely authentic, extraordinarily fun senior class."
Then, under the guise of some last-minute instruction, Johnstun continued his praise. "You are so bright, let me list what you will achieve: I know it in my heart you will be doctors, business leaders, artists, lawyers, engineers, filmmakers, pilots, writers, nurses, skilled tradespeople and so many more things that society will dub you worthy," he said. "I know this: you're brilliant. Your brilliance is displayed in your writing, your discussions, your humor, your wit and your ability to con me into talking about food instead of commas.
"I can't wait to see what you become beyond the name tag or the LinkedIn profile: leaders, philanthropists, volunteers, moms and dads, husbands and wives and partners, community builders and most importantly, friends to so many people that don't know you now as you sit here but will be so lucky to know you next fall or 10 years from now or 30 years from now," he continued.
The graduates then heard from two of their peers who had achieved excellence both in and outside the classroom.
"Today, all 53 of us graduating high school are being faced with the seemingly insurmountable task of beginning our future," Valedictorian Mercedes Randhahn said. "What used to seem to be ages away is now upon us with the symbolic turning of a tassel: freedom. Graduation ceremonies are colloquially recognized as the end of some journey. However, I prefer to consider this moment as a beginning: Each of us is about to enter the world as independent beings for the first time.
"In my limited experience, I have come to believe that our futures are founded on three principles," she continued. "Those are: to have the courage to create the life you want to live, to take complete responsibility for your actions and your life, and to try your best. I leave you with one final quote by Nelson Mandela: 'A winner is a dreamer that never gives up.' Why should that be any less true of you? Never settle, have courage, take accountability and try your best."
Salutatorian Matthew Gough began his remarks by saying, "My fellow graduates and I are lucky to have had the instruction of the fantastic faculty here at Saint Joe's, and I know that we enter the next chapter of our lives prepared for struggles both in and out of the classroom."
He then recalled some of his experiences at the school and the lessons they had taught him, including the importance of making his own way.
"For pretty much my entire life I thought I had to be exactly like my family," he said. "I had to do what my father had done, and my grandfather, and my great-grandfather, and my great-great-grandfather had done. But then I realized something: my name isn't Jamie Gough the 5th; that's my cousin's name and he's already been in the military for five years."
"The moral of the story is to do what you want," he concluded. "I'm not saying don't listen to your parents, or your guardians, or other people you respect, but live your own life. Be you, and don't let anyone or thing cause you to make decisions about your life that you wouldn't have made otherwise."
After the bestowal of diplomas by Utah Catholic Schools Superintendent Mark Longe, Principal Clay Jones gave some closing remarks.
"Graduates, I always tell the graduating class: you are now closing a chapter in your life, but don't make it the best chapter," he said. "Let it be the beginning of a wonderfully bright future."
Then, in what has become a tradition, Jones recalled individual experiences with each graduate, and concluded with, "I wish you a joyful journey on the train of life. Reap success and give lots of love; more importantly, thank God for your journey. I thank you for being a passenger on the St. Joseph train and I hope that it has been a joyful journey for you."
– Overall GPA 3.70
– Graduates will attend 34
different institutions
– One U.S. military academy appointment
– Cumulative $6 million in scholarships
and renewable grants
– More than 2,650 cumulative community
service hours over the past year
– Six Academic All State
AWARDS
St. Joseph Award:
Matthew Gough
Father Neale Herrlich Award:
Kym and Pete Buttschardt
Among the prestigious institutions the St. Joseph Class of 2023 will attend are Massachusetts Institute of Technology (Mercedes Randhahn); the University of Notre Dame (Matt Gough), and the U.S. Naval Academy (Will Jones). Sarah Snell will attend the University of British Columbia, where she will throw javelin.