Consecration to the Immaculata for the Family
Friday, Jul. 29, 2022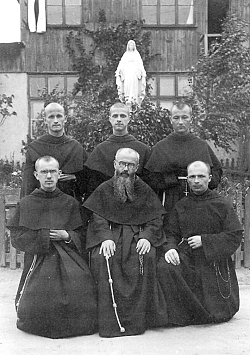 Courtesy photo/MI-USA. Used with permission.
+ Enlarge
By Donna Masek
Special to the Intermountain Catholic
Pope Francis recently called for the X World Meeting of Families, which took place June 22-26 in Rome, Italy. Through prayer services, presentations and discussions, participants were invited to strengthen and embrace its theme of Family Love: The Vocation and Path to Holiness. The Militia of the Immaculata offers the Consecration of the Family to the Immaculata as a means to enhance this mission.
In its evangelical call to promote holiness through total consecration to the Immaculata, the Militia of the Immaculata offers the consecration to families as a valued means of strengthening their particular vocational call, in light of Our Lady's role in the plan of salvation and the witness of the Holy Family. Beginning with the conception of Our Lord in her virginal womb (Luke 1:39-56), the Blessed Mother was the first to bring the joy, strength and peace of his presence to a family when she visited her elderly cousin Elizabeth, who was expecting. Nine months later, Our Lady herself brought forth her first-born son and laid him in a manger, adored by various representatives of society. When Our Lady dwells within a family, she assists them to follow the thrust of the Gospel and to give birth to him anew through loving service to one another.
The Holy Family was not without hardships. Fleeing to Egypt to protect the Christ Child from the scourge of King Herod (Mt 2:13-15), Joseph and Mary established residence in a foreign land. Several years later, they experienced parental anguish as they searched for three days for the lost Christ Child, ultimately finding him in the temple (Lk 2:41-52). When Our Lady is invited into families, she assists them to walk in faith during challenging times and remain confident in God's merciful love. Both the family unit and its individual members become a beacon of light through their Christian witness. Their homes become domestic Cities of the Immaculata, where the Sacred Heart of Jesus is loved and adored.
St. Maximilian prayed, "… Your heart, O Lord, inflamed with love for me, suggested to you another gift. Yes, yet one more gift!.... You asked us to become children if we wish to enter the heavenly kingdom. You well know that a child needs a mother: You yourself established this law of love. Your goodness, your mercy, therefore, created for us a mother, the personification of your goodness and infinite love. From the cross on Golgotha you offered her to us and us to her…." (KW 1145).
Let us not be afraid, then, to welcome Our Lady into our homes through the Consecration of our Family and to listen to her gentle prodding, "Do whatever he tells you." (John 2:5)
A Rite of Total Consecration for Families will take place on the Feast of St. Maximilian Kolbe, Sunday, Aug. 14, immediately after the 10 a.m. Mass at St. Mary Catholic Church, 4050 South 3900 West, West Haven. All are welcome to this free event. Register at miutah.stmary@gmail.com
Donna Masek is a Volunteer of the Immaculata and represents the Militia of the Immaculata in Utah. Through Village meetings, retreats, and other outreaches, the MI serves both the English and Spanish communities. For information, contact Donna at miutah.stmary@gmail.com.