Convert from the Seventh-day Adventist Church looks forward to confirmation as a Catholic
Friday, Mar. 11, 2016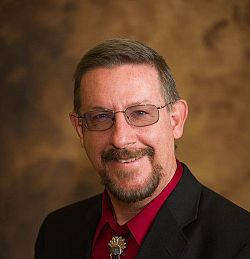 + Enlarge
WEST VALLEY CITY — Michael Martling will receive the Sacraments of Confirmation and the Eucharist during the Easter Vigil on March 26 at Saints Peter and Paul Parish, where he has been in the RCIA program.
"I can feel the fire within me," Martling said in talking about joining the Catholic Church. "It sort of comes pouring out of me I'm so excited and so enthused, so in love with the Lord and so thankful that he led me to a spot where I am not just drifting; I'm going to have roots again."
Martling was born in Staten Island, N.Y. and baptized as a child into the Seventh-day Adventist Church. He spent his teenage years in Arkansas, and has lived in eight different states, twice in Utah, from 2007 to 2010 and then again from 2014 to the present.
Going from Adventism to Catholicism is an "odd situation, because there is a certain level of hostility within Adventism toward Catholicism," said Martling. "But I have always had friendly feelings toward Catholicism; my dad's side of the family is Catholic. I never had any kind of animosity. In fact, my best friend growing up in New York was Catholic. I sometimes went to Mass with him. I've been to Mass on and off my whole life."
Martling is a middle school U.S. history teacher at American Preparatory Academy and has researched the history of Christianity from its beginning with Peter, Jesus, the disciples and the formation of the early Church, he said.
In his 23 years of teaching, Martling spent the first 20 as a Seventh-day Adventist educator, teaching history and Bible classes.
Being a Seventh-day Adventist was good preparation for becoming a Catholic; they take Christianity "seriously and know the Bible well," he said. But it came to a point where he was doubting his faith and, being employed by the church, he couldn't voice how he felt.
While living in Spokane just before moving to Utah, Martling taught at a Seventh-day Adventist school near a Catholic bookstore, he said. He bought a crucifix and hung it in his house, put a cross in his car and got a rosary – he was always drawn toward Catholicism because he liked the symbolism of the Church, he said.
As Martling began to drift away from the faith of his youth, he felt he didn't have an anchor and "it bothered me spiritually," he said. "I still go to the Seventh-day Adventist church with my wife and two sons as the head of the family, but I felt it was damaging my Christian experience."
Martling realized he could no longer teach in a Seventh-day Adventist school and began teaching in a charter school.
Last July, after Martling's wife lost her job, "my son and I went on a backpacking trip," he said. "I was upset about my wife's situation, and while we were hiking, my mind drifted to the Lord, and I suddenly decided to pray the rosary. It had a calming effect, and peace came over me; I knew the Lord would take care of everything."
When he returned from backpacking, he decided to find a Catholic church and was led to Sts. Peter and Paul Parish, where he lit candles, prayed and found comfort, he said. "I joined RCIA last September."
Martling has great knowledge about the Seventh-day Adventist faith and other faiths, and during discussions he interjects interesting points that parallel or differ from what Catholics believe, said Deacon Sunday Espinoza, Sts. Peter and Paul Parish RCIA instructor.
"The more he studied Catholicism, the more he found answers to his questions and an emptiness in his Seventh-day Adventist faith," the deacon said. "Because he understands the Catholic faith so well, he has transitioned to loving it, and can now express and defend Catholicism."
As Martling prepares to enter into the Easter Vigil, "it is easy to see the vitality and the definite commitment he has toward completing this step in his life," said Deacon Espinoza.