Cookie (Thelma) Epperley
Friday, Jun. 15, 2018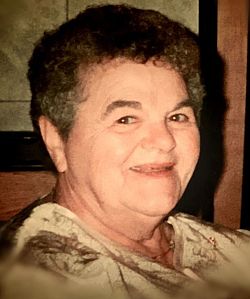 Intermountain Catholic
+ Enlarge
September 5, 1928 ~ June 7, 2018
Our mom, Cookie, passed away peacefully at Willow Springs on June 7, 2018 at the age of 89. We know she was immediately met and embraced by our father, Tom who preceded her in death in 2013. She was also reunited with her siblings Alzo, Vera, Paul, Rena and Stella, who have been waiting with Tom for her join them in God's eternal kingdom.
Cookie is survived by her three sons: Father Wayne Epperley of Detroit, Mich.; Tom (June) Epperley of Tooele; and Paul (Jen) of Fort Worth, Texas; and her two brothers, Phillip and John.
Cookie was a lifelong resident of Tooele, born to Nettie and Phillip Morrell in 1928, and spent her early years playing with her brothers and sisters on Broadway and working at her parents' general store and Coffee Johns. She married Tom in 1950 and spent many years in Europe with him while Tom served in the U.S. Army before returning to make their home in Tooele. She spent the rest of her life raising their children and many adopted children and family.
Cookie was a devout Catholic and member of St. Marguerite Parish. She participated in and hosted many events at the church over the years, most notably the ordination to the priesthood of her son Wayne, a first for the parish. She will be remembered for her genuine kindness and compassion. In addition to keeping up with the friends that she and Tom made around the country and during the many winters they spent in Yuma, she had many daily and weekly visitors later in life who would come to listen to her stories about the old days, get sage advice on life and just spend time in her presence. She will be greatly missed by all.
A funeral Mass is scheduled for 11 a.m. Friday, June 22, 2018 at St Marguerite Catholic Church, 15 S. 7th St., Tooele. A reception will follow in the parish hall. Cookie will be buried with her beloved Tom in a private ceremony at Tooele City Cemetery.