Covering Kids and Families Back-To-School Campaign Launched by CHIP, Medicaid advocates
Friday, Aug. 25, 2006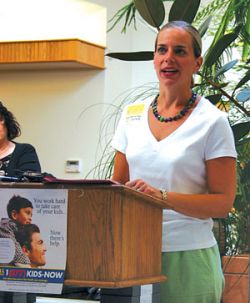 Intermountain Catholic
+ Enlarge
SALT LAKE CITY — There is one last chance for qualified families to sign your children up for CHIP – the Children's Health Insurance Program – before the program rolls close this year, but it has to be done now.
The Utah Covering Kids and Families coalition Aug. 9 launched an intensive 21-day push to enroll eligible, uninsured children in the CHIP program, which closes Sept. 1 at 3 p.m..
At a press conference Aug. 9, at Columbus Library in Salt Lake City, Karen Crompton of Voices for Utah Children emphasized that registration for the CHIP program and Medicaid should be part of an eligible family's preparations for children entering school.
"Children cannot insure themselves," Crompton said. "CHIP and Medicaid keep small problems from becoming big problems."
Although Utah has seen an increase in the number of uninsured adults, the numbers of uninsured children has decreased, Crompton said, largely because families have been taking advantage of CHIP and Medicaid.
Nate Checketts of the Utah Department of Health said families of four who make up to $40,000 a year are eligible for both the CHIP and Medicaid programs.
"It is critical that eligible CHIP families register now," Checketts said. "If children suffer from vision problems, asthma, diabetes, or more serious problems, like undetected cancers, it makes it hard for kids to be kids. We want to keep children healthy."
The CHIP program is funded by a combination of state and federal matching funds.
"Our latest survey reveals that there are about 53,000 Utah children whose families are on fixed incomes," Checketts said. "Medicaid will always be open. The CHIP program, though, has funds limited by legislative appropriation. If the next legislative session appropriates more funds, CHIP enrollment may re-open in eight or nine months."
Lynne Larsen-Miller of the Granite School District said a recent study by Richard Riley revealed that children without health insurance suffer more from asthma, eye problems, and ear infections, easily treatable conditions which, left untreated, can develop into more serious problems later.
"It has been shown that children who are uninsured are 30 percent less likely to seek care in an emergency, and nationwide, 222 million school days are lost for dental problems alone."
While Utah and other states have been pressured to meet the demands of the "No Child Left Behind" program, Larsen-Miller said, poor health can get in the way of good study habits both in the classroom and at home.
The CHIP and Medicaid programs aren't just for school-age children. Barbara Smith of the Early Childhood Council added that children who are not feeling well cannot learn adequately.
"From birth to five years of age is a window of critical time for children to be healthy and to learn all they need to learn to prepare for school," said Smith.
"Valuable linguistic skills are learned during this time, and it is important that children are healthy and alert enough to learn these skills before they being kindergarten. Important pre-literacy skills and brain development don't happen without health."
Smith said it is vital that parents understand the importance of building their childrens' vocabularies by talking to their children and reading to them.
Amy Carroon, wife of Salt Lake County Mayor Peter Carroon and a representative of the Ready to Read Program, said all children starting school, and those younger, need to be healthy.
"Medical and dental problems cause children to fall behind. Salt Lake County cares about childrens' health, and we want parents to know they can come to the county to get help for their children."
Parents of uninsured children can call toll-free 1(877) KIDS-NOW or apply online at health.utah.gov/chip/.
"Schools and libraries are not only places of learning," said Jim Cooper of the Salt Lake County Library System. "They are resource centers for the community. Families can use library computers to access the Health Department's web site to see if their children are eligible for programs such as CHIP."
For further information about the CHIP and Medicaid programs call 1-877-KIDS-NOW.