Crossroads walkers take pro-life message across U.S.
Friday, Jun. 15, 2018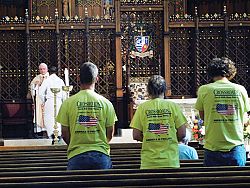 IC photo/Laura Vallejo
+ Enlarge
SALT LAKE CITY — The Crossroads walkers, a group of young people who are walking across the United States for the pro-life cause, visited the Cathedral of the Madeleine on June 9 as part of their pilgrimage.
Fr. Martin Diaz, rector of the Cathedral of the Madeleine, welcome the walkers at the 8 a.m. Saturday Mass.
The walkers "understand Jesus life in a way that some people don't," Fr. Diaz said. "These people walk. They don't drive or fly, they walk across the country, finding comfort in doing it. … They touch people's hearts."
As part of this walk three different groups started their journey through the Unites States on May 19. The eight who stopped in Utah began in San Francisco; their journey will take them through Nevada, Utah, Colorado, Nebraska, Kansas, Missouri, Illinois, Ohio, Pennsylvania and Maryland before they end on Aug. 11 in Washington D.C. with a pro-life rally at the U.S. Capitol. Other groups are taking routes through northern and southern states. There is also a walk through Canada.
Following Mass at the Cathedral of the Madeleine, a breakfast was offered to the walkers.
Jim Mello, one of walkers, said that he was attracted to participate because "it is a pilgrimage of prayer and sacrifice. That was the big thing that motivated me."
Adding that the walk gives witness and support for the pro-life movement in a prayerful way, Mello said that "every step has changed me in a certain way."
Originally from Connecticut, Mello said that the constant sacrifices that they go through on their journey has helped him feel closer to Jesus.
"You may think that you may feel like a super hero that walks across the country, but it's the exact opposite. I am so humbled to give this witness and to serve this role," he said.
Sara Olpgenbrown from Nebraska, another of the 2018 Crossroad walkers, is participating because she is a teacher, she said.
"Teaching and seeing some of the struggles that my students go through make me realize how much we need a bigger respect for life," she said.
She believes that being pro-life is more than just protecting the unborn.
"For me it really means really loving one another; helping those in need" and respecting the dignity of life, she said.
Every step along this road has left her humbled, she said. "Anyone can do this. I am really happy to be a witness of Christ's love and to hopefully touch hearts of people that we met and to get them involved in this movement."
Cristina Malloy was among the group that welcomed the walkers to the Cathedral of the Madeleine. She participated in 2010 Crossroad walk.
"The pro-life walkers are very important because there is no one more vulnerable or innocent than the unborn," Malloy said. "The right to life is very important."
The night before visiting the cathedral, the walkers were welcomed at Saint Mary Catholic Church in West Heaven, were they were received with a dinner.
"We have been blessed to host Crossroads for a number of years, said Donna Masek, a St. Mary parishioner. "We enjoy being a place of respite for them during their sojourn across the country by providing meals as needed, such as Friday-night dinners, as well as offering a restful spot for them to sleep and rejuvenate before beginning their next walk segment to Colorado."
The mission of Crossroads is to "respond to Pope St. John Paul II's call to the youth of the world to take an active role in the pro-life movement in order to establish a Culture of Life. An integral part of Crossroads is our yearly pro-life pilgrimages across the United States," according to the organization's website.
Each summer with Crossroads, young adults undertake three simultaneous pro-life treks across the U.S., walking almost 10,000 miles through 36 states.
"We are blessed by their faithful witness to God that is exhibited not only through their most appreciative mannerisms, but also in their prayerful presence among us," Masek said.