CWL luncheon to benefit diverse charities in Utah
Friday, Sep. 21, 2012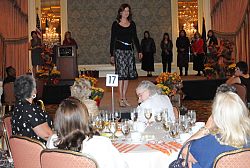 Intermountain Catholic
Photo 1 of 2
DRAPER - The Catholic Woman's League will present its 2012 Fall Benefit Luncheon, 'Fall Tapestry,' on Saturday, Oct. 13. This event will feature a fashion show in which previous past presidents of the league will be the models.
This year the event will have two beneficiaries: The Fisher House and Catholic Community Services of Northern Utah.
To select the beneficiaries, the CWL committee first sent letters to different programs.
"We ask if they would like us to consider them as possible beneficiaries for our luncheon," said Cheryl Johnson, fashion show/luncheon chairperson.
Officials from those programs wishing to be considered then filled out a form narrating why they should be selected.
"We picked two that we think would be the best for what we are doing. We received 28 applications and we had to choose just two," said Johnson.
The Fisher House in Salt Lake City provides housing for the families of military veterans who are receiving treatment at the Veterans Affairs Medical Hospital. The SLC Fisher House, which opened in January, has 20 private suites, each with its own bed and bath. The facility also includes a common kitchen, laundry facilities, a dining room and a living room with a library and toys for children. Its staff consists of one full-time manager and three part time housekeepers.
"Being one of the beneficiaries of the CWL Luncheon is a great honor," said Quinn Kiger-Good, manager of the Fisher House. "The Fisher House works only on donations, and with the community support, and having this support is just huge stuff."
The letter that helped the Fisher House to be selected was written by Rayfel M. Bachiller, a retired U.S. Marine Corps colonel who also is a Knight of Columbus with the Draper Council. Bachiller was instrumental in bringing the Fisher House to Utah and raising funds for its construction.
"We are thankful for his dedication and sincere passion," Kiger-Good said. "This will help us to create public awareness. Our biggest struggle is to get the word out about what we do and what we are about."
Catholic Community Services in Northern Utah operates through the Joyce Hansen Hall Food Bank. Located in Ogden, the food bank serves seven counties in Northern Utah. Its Homeless Prevention Services provides rent and utility assistance for those in need, ensuring they have the help they need to not be homeless; and the St. Martha's Baby Project in Ogden furnishes baby layettes for low-income parents.
The food bank provides food baskets for low-income and homebound residents. According to Marcie Valdez, CCS Northern Utah director, approximately 2,200 families go there for help each month. During the past years, due to the increase in families in need, CCS Northern Utah has struggled to supply the necessary goods to these families.
"It was very exciting to find out that we were one of the beneficiaries of the CWL," said Valdez, who also oversees the St. Martha's Baby Project and the Homeless Prevention Services, which serves near 20 families per month.
"This donation that the CWL will give us will go a long way to help all these people," said Valdez. "This means so much for us. We do so much for the community here in northern Utah and we would not be able to do it without the community support."
WHAT: The Catholic Woman's League 2012 Fall Benefit Luncheon
WHEN: Saturday, Oct. 13, starting with a social hour at 11 a.m.
WHERE: Grand America Hotel, 555 S. Main St., Salt Lake City
COST: $35 per ticket
RSVP: by Oct. 5 to Patty Martinez, 801-571-6952 or patty@camrina.com. All are welcome.