D. Allen Lund
Friday, Apr. 13, 2018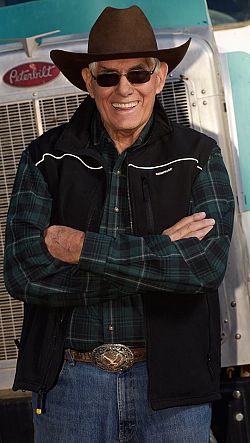 + Enlarge
September 3, 1940 ~ April 7, 2018
D. Allen Lund, a noted philanthropist, died following a brief battle with cancer. He was 77.
Allen died April 7, 2018 at his home in Pasadena with his large family at his bedside and a small choir of Carmelite nuns singing around him.
In the hours before his death, he was asked by a visitor how he was. His response: "Wonderful." Allen's tremendous life and peaceful death were exactly that, wonderful by any measure. His was a life rich in family, faith, and successes.
He leaves behind his adored wife of 57 years, Kathleen "Kathie" Lund. The couple had six children: David Lund, Kenneth Lund, Edward Lund, Natalie (Lund) Peterson, Anna (Lund) Clapp, and Christina (Lund) Doerfler and their spouses; 22 grandchildren and two great-grandchildren. He is also survived by his two sisters, Katie Atkin of Salt Lake City and Judy Holtkamp of Gold Beach, Ore., and leagues of associates and friends.
Allen was born September 3, 1940 in Salt Lake City. After graduating from Davis County High School, Allen met Kathie while working as a ride operator at the Lagoon Amusement Park; they then began the ride of a lifetime when they were married July 16, 1960. Allen then started work in heavy equipment operations while also serving in the U.S. Army Reserve for seven years. He would then shift gears and began working for a produce and truck brokerage company in Salt Lake City.
Employment opportunities led him and Kathie to transfer to Glendale, Calif. in 1969.
Allen was inspired to work for himself and set out on his own. In 1976, he would found the Allen Lund Company, a truck brokerage firm. Now headquartered in La Canada, Calif., the Allen Lund Company has offices in 34 cities, with 450 employees brokering 300,000 truckloads annually. His leagues of employees attest to working with Allen, not for him.
Honors and awards included the prestigious Transportation Intermediaries Association Heritage Award from his peers in 1999. Allen received the 2006 Achievement Award and the 2009 Business Person of the Year for the city of La Canada.
Allen's expertise in his field was acknowledged by the U.S. Department of Agriculture in 1993 when he was tapped to travel to Moscow to assist the former Soviet Union's new government in forming a more orderly distribution of food to the citizenry.
As a staunch proponent of Catholic education, Allen served as the chairman of the Board of Directors at St. Francis High School, president of the Board of Regents at the University of Portland, and as trustee on the Board for the Catholic Education Foundation of the Archdiocese of Los Angeles.
The Lund Family Scholarship, established by Allen, benefits students from St. Francis High School and Flintridge Sacred Heart Academy who attend the University of Portland. Contributions to the University of Portland also include the campus bell tower, the St. John's Bible, housed in the University's Clark Library, and the Lund Family Residence Hall.
In addition, Allen established a significant retreat center for youth outside of Monticello, Utah. He spent time there with family and groups of young retreatants. His love for the faith and the beauty of southern Utah inspired his contribution to the Church in the area. He financed and constructed the new Saint Joseph Parish in Monticello, which stands as a tribute to his generosity.
Allen also served as the chairman of the Board for the Magis Institute, an organization created to design special programs to address the need for spirituality in public life; on the Finance Council for the Archdiocese of Los Angeles, the Board of Directors of St. John's Seminary in Camarillo, and on the Board of Directors of Homeboy Industries Inc., an organization committed to rehabilitating former gang members through the dignity of work.
Allen's honors for his philanthropic contributions included the designation of a Knight in Equestrian Order of the Holy Sepulchre of Jerusalem and receiving the Papal Honor of Knight Commander in the Order of the Knights of St. Gregory in recognition to his committed service to Christ and to the Church.
Outside of his public life, Allen's greatest role was as his family's patriarch. He was happiest when with them all, entertaining at his Pasadena home or riding ATVs at his Long Canyon Ranch in Utah. Despite the size of his family, each child and grandchild attests to an individual relationship with their grandfather.
A funeral Mass will be celebrated at the Cathedral of Our Lady of Angels on April 14, 2018. In lieu of flowers, donations can be made to the Carmelite nuns who ushered Allen peacefully into heaven – Carmel of St. Teresa, 215 East Alhambra Road, Alhambra, Calif., 91801, www.carmelteresa.org. Arrangements were in care of Cabot & Sons, Pasadena Directors.