Daughters of Charity celebrate 100th year in Utah
Friday, Oct. 23, 2020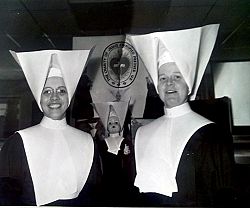 Diocese of Salt Lake City file photo
Photo 1 of 4
SALT LAKE CITY — This year marks the 100th anniversary of the Daughters of Charity's presence in Utah. While no public celebrations are planned due to pandemic restrictions, many in the diocese are contemplating the contribution of the sisters over the years.
"My mother graduated from Judge Memorial [Catholic High School] when the Daughters of Charity were teaching there," said Monsignor J. Terrence Fitzgerald, vicar general emeritus. "When I was assigned to Price to the high school in 1964, there were 13 Daughters of Charity in the schools (grade school and high school). So in my four years there, I had firsthand experience of the Daughters. As superintendent of schools, I worked with them as well at J.E. Cosgriff and St. Olaf's. I saw the Daughters work late into the night, travel weekends on the train to go down to Colorado, Moab and different areas visiting families. I saw them going into the mining camps where there were a number of very poor people living, taking homemade jelly and seeing how they could be of assistance."
The Daughters of Charity were founded in 1633 in France by Saints Vincent de Paul and Louise de Marillac. Their ministry is devoted to serving the sick and the poor. The religious order was first invited to Utah by the second Bishop of Salt Lake, the Right Rev. Joseph S. Glass. Shortly after they arrived, the sisters founded Catholic Elementary School #1 in Salt Lake City, now Our Lady of Lourdes School. Six years later they opened Catholic Elementary School #2 at the Cathedral of the Madeleine, which was the precursor to Judge Memorial. They went on to establish Notre Dame School in Price, which was closed in 1999. In 1957 they began administration of St. Olaf Elementary School in Bountiful, where they served until 1995.
In addition to their service in education, the Daughters of Charity created an outreach ministry to the poor on the west side of Salt Lake City. Since 2003 they have acted as moderators to two Ladies of Charity lay chapters which took over providing those services.
In 2010 the Daughters of Charity established Give Me A Chance in Ogden. The community outreach ministry was founded by Sister Maria Nguyen, DC, who established the program as a way for low-income women to achieve self-sufficiency. GMAC teaches workplace skills such as sewing, computer and keyboarding to low-income women to enable them to obtain better jobs. It also provides art classes for all ages and an after-school program for children. Today, Sr. Martha Garcia, DC, Sr. Milagros Federico, DC, and Sr. Lucia-Lam Nguyen, DC serve in the organization.
"We're in an impoverished area, a lot of homeless, a lot of homes that need taken care of, a lot of people who are hungry," said Sr. Martha, who serves as the organization's executive director. "They're people who need us, and the Daughters serve the way St. Vincent wanted us to serve and that was to accept everybody with loving care and acceptance and never to distinguish between one or another due to poverty, different religion or different beliefs but to serve them as Christ would serve them. What we're doing here at Give Me A Chance is serving the people here in this area as Christ would want us to serve – with open hands, with open arms, with a welcoming spirit."
Today, just four Daughters of Charity remain in Utah. In addition to the three at Give Me A Chance, there is Sr. Germaine Sarrazin, who has served in Utah for three long-term assignments since 1962. In her current assignment she has been here since 2007.
Acceptance of the sisters in Utah has changed markedly since the early days, said Sr. Germaine, who remembers being refused service at stores and being spit upon.
"That's no longer true," she said. "People here now are very welcoming, warm and accepting of us."
"I love Utah; I would just as soon finish my life here," she added. "The people are fantastic; they're very warm, welcoming and supportive."
Sr. Germaine, who joined the order in 1958, taught at St. Olaf and at Notre Dame School. Now retired from teaching, she has tutored at St. Ann and Our Lady of Lourdes schools, and works with refugees. She also serves as a moderator for the Ladies of Charity lay order.
Despite their small numbers, Sr. Germaine said there is still a great need for the Daughters of Charity and other religious here.
"Utah is very unchurched – the Mormons and others don't know us – but by our lives we need to make them aware of the Church and what the Catholic Church believes and teaches," she said. "Even people who are Catholics, they know very little. There is a great need in Utah."
Msgr. Fitzgerald had high praise for the work of the Daughters of Charity in Utah.
"The Daughters are superbly professional; they are always appropriate in terms of the setting in which they live," he said. "They are so charitable with their outreach to the poor. The Daughters have made a tremendous contribution to Utah during their 100 years. We are blessed that they continue to remain here and support us with their vibrant ministry."