Deacon candidates installed as acolytes
Friday, May. 17, 2019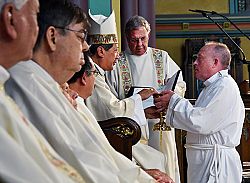 IC photo/Marie Mischel
+ Enlarge
SALT LAKE CITY — On May 11, the five men in the Diocese of Salt Lake City diaconate formation program underwent the final rite prior to their ordination.
The Rite of Installation of Acolytes took place during a Mass at the Cathedral of the Madeleine at which Bishop Oscar A. Solis presided. Concelebrants were Msgr. Colin F. Bircumshaw, vicar general; Msgr. J. Terrence Fitzgerald, vicar general emeritus; Father Martin Diaz, rector of the cathedral; Fr. John Norman, pastor of St. Vincent de Paul Parish; and Fr. Eleazar Silva, director of academics for the diaconate formation process and pastor of Sacred Heart Parish. Deacon Guillermo Mendez was Deacon of the Mass.
The deacon candidates are Jeffery (Mindi) Allen of St. Vincent de Paul Parish; Jeremy (Melissa) Castellano of St. Joseph the Worker Parish; Robert (Rocio) Cowlishaw of St. Francis Xavier Parish; Thomas (Maria) Devereux of St. Mary Parish; and Gregory (Teri) Werking of St. Thomas More Parish. Last year they underwent the Rite of Candidacy for Ordination and the Rite of Installation as Lector. Next year they expect to be ordained as deacons.
Typically, the deacon formation program is about five years, but these five expect to finish in three years because all are certified lay ecclesial ministers, a process that covers much of the same academic material as that of the traditional deacon program.
The diaconate is an ordained ministry open to married men in good standing with the Church. It does not lead to priesthood. (Seminarians typically spend a year as a transitional deacon before they are ordained to the priesthood.) Deacons may officiate at baptisms, weddings and funerals, read the Gospel and preach at Mass, and help with the canonical process for marriage and baptism.
In his homily, Bishop Solis explained that the responsibility of an acolyte is to assist the priest in preparing the gifts of the bread and wine on the altar, and to serve as an extraordinary minister of Holy Communion. They also may participate in the Exposition of the Blessed Sacrament for adoration, and take the Eucharist to the sick and homebound.
To the deacon candidates, he said, "Please know that this ministry demands a life of holiness, so learn to develop an intimate union with Christ through prayer, special devotion, reverence and adoration of the Blessed Sacrament. To carry out your responsibility with zeal and fidelity, make your life worthy of service, deepen your understanding of the Holy Eucharist, and conform yourself more fully to Christ so you can walk in God's ways. You should know that the world needs authentic ministers, ministers with integrity, whom people can identify by what they say and do, not by drawing attention to yourself, but by drawing attention to Christ."
He urged them to "let Jesus be your teacher, inspiration and model of love and service in this special ministry."
During the rite, each deacon candidate was called forward by name to kneel before the bishop, who was seated in his cathedra, holding a chalice and a paten, on which was a host. The candidates placed their hands on the chalice and their finger on the host, while the bishop said, "Take these vessels with bread and wine for the celebration of the Eucharist, make your life worthy of your service at the table of Lord and of his Church."
The candidate replied, "Amen."
After the Rite of Installation, the candidates' wives were called forward to join their husbands standing before the altar. Bishop Solis asked for God's blessing on the wives, saying, "In many and varied ways they have supported their husbands by prayer, sacrifice and the assumption of additional duties at home and family. Hold these wives in the palm of your hand and grant them wisdom, strength and courage. May the peace of Christ be always in their hearts, and may the word of Christ dwell in them so that whatever they do, they will do all in the name of the Lord Jesus."