Deacon Manuel Trujillo to retire in November
Friday, Oct. 11, 2019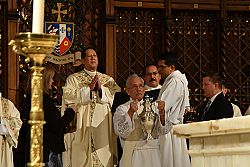 IC Archive photo
+ Enlarge
LAYTON — Fifteen years ago, Deacon Manuel Trujillo started his journey of service as a permanent deacon in the Catholic Church when he was ordained on Jan. 24, 2004 by the Most Reverend George H. Niederauer, the eighth Bishop of Salt Lake City.
Now 78 years old, Deacon Trujillo has decided to retire from full-time diaconal ministry effective Nov. 30.
"It has been a huge blessing to be able to serve God's Kingdom on earth through my diaconate and all the ministries that I have served through the years," Deacon Trujillo said.
Although he has always felt in his heart a call to serve, becoming a deacon was a bit of a struggle. It began when he would help Sr. Maria Molina, who was then director of the diocesan Office of Hispanic Ministry, with the prayer groups.
"She was always telling me 'your name has surfaced as a good candidate for the diaconate.'… Every chance she got she was telling me those words," Deacon Trujillo said.
His answer, however, was always 'no.'
One day Sr. Molina finally asked, "Why 'no'? What do you have against the deacons?"
"I told her that I didn't want to be the tail of a priest," recalls Deacon Trujillo with a big smile.
Up to that point, he had only seen deacons at Mass reading the Gospel and going up and down the altar. He was unaware of all the ministries and service they provide to the Church.
Despite his refusal, Sr. Molina kept persisting up until the day she was reassigned out of the diocese, and Maria Cruz Gray became director of the Office of Hispanic Ministry, a position she continues to hold.
"She started telling me about the diaconate again … and again," said Deacon Trujillo recalling that he finally asked her how much the deacon program would cost, because he had no money.
"She said, 'Nothing.' … I was still bit hesitant but agreed because I wanted to learn more about the Church so I could be better in the service that I was providing to the community, but I told her I wasn't sure that after the four-year program I would want to get ordained," Deacon Trujillo said.
As the deacon formation program progressed, little by little Deacon Trujillo realized that the deacons serve in many ways: They help the sick, visit the incarcerated, bring Communion to the homebound, and celebrate marriages, baptisms and funeral services, among other ministries.
"They indeed do a lot, so I decided I was going to get ordained," Deacon Trujillo said.
Since his ordination, he has celebrated more than 800 baptisms and numerous weddings and funeral services. He has been assigned as deacon at the parishes of St. Olaf in Bountiful, St. Thomas Aquinas in Logan and most recently at St. Rose of Lima in Layton.
In addition, he has served as the diocesan jail coordinator. These days he is in charge of the jail system in Davis County.
"For 16 years, once a week I have taken the Eucharist to the incarcerated, serving about 60 people each time," Deacon Trujillo said.
He has many fond memories of his ministry as a deacon, but he treasures encountering people on the streets who then thank him for visiting a family member at the jail, or because he baptized one of their children, or because he officiated at their wedding.
"I have no words to describe the good and humble feeling I get when someone approaches me and tells me they treasure my service. That for me is a huge blessing," Deacon Trujillo said.
Although he is retiring, he plans to continue serving in his ministry, because "once a deacon you are always a deacon," he said.
Bishop Oscar A. Solis granted his retirement in a letter that reads, in part, "With the support of your wife, Dorothy, you have worked diligently in the Lord's vineyard since your ordination on January 24, 2004. I am happy to grant your request for retirement, even as I wish to express my personal gratitude for your fifteen plus years of active ministry."
Deacon Trujillo will continue helping in St. Rose of Lima Parish and in the jail ministry in a semi-active way.