Deacon Rick and Lori Klein depart
Friday, Jun. 07, 2013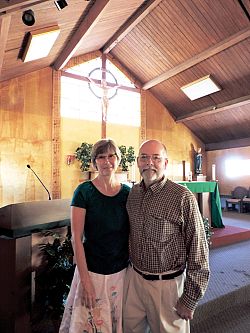 Intermountain Catholic
+ Enlarge
MOAB — Deacon Rick Klein's move from Moab to Fort Collins, Colo. "creates a tremendous ministry hole," said Father William Wheaton, pastor of the parishes Saint Pius X in Moab and Saint Joseph in Monticello and Sacred Heart Mission in La Sal; he also covers Saint Michael the Archangel Mission in Green River.
"Rick has been just a gift here, especially in terms of his preaching," Fr. Wheaton said. "He has a wonderful gift of being able to really connect with people."
In addition to preaching once a month or so, Deacon Klein often conducted Sunday Celebrations in the Absence of a Priest when Fr. Wheaton was unable to celebrate Mass for one of the Catholic communities in the area. In addition, this past year he taught the Confirmation class at St. Michael the Archangel Mission.
"That was just a tremendous help to me because I couldn't cover it all," said Fr. Wheaton, who spent six hours a week in Green River each Tuesday, teaching First Communion and 4th- through 6th-grade religious education classes, on top of the two-hour round trip travel time.
Fr. Wheaton said he also will miss Deacon Klein because he will now have to prepare a homily every week. "Just from a practical standpoint, to be able to have one Sunday a month or one Sunday every six weeks where you can have a little break and hear someone else's perspective on the Scripture is a gift. Now I don't have that. It's difficult in these rural areas where we don't have deacons to have any kind of a break at all."
With Deacon Klein's departure, the only ordained clergy in the area from Interstate 70 to the Utah border are Fr. Wheaton and Deacon Tom Corrao in Monticello. The nearest priests are about 100 miles away: Father Donald Hope at Notre Dame de Lourdes Parish in Price and Father Albert Kileo at Saint Anthony of Padua Parish in Helper.
Deacon Klein's leaving "creates a tremendous ministry hole in these rural areas when you have such limited resources," Fr. Wheaton said. "I don't think people realize … what it's like down here in terms of the isolation."
Deacon Klein has moved to Colorado for his job; his wife, Lori, also has a job there after completing a master's degree in social work. The Kleins moved to Moab 25 years ago and immediately became involved with St. Pius X Parish. Deacon Klein served as an usher, taught the Confirmation class and was a member of the parish council; Lori Klein taught CCD, was the director of religious education and served as a Eucharistic minister. When the Diocese of Salt Lake City offered a permanent deacon class in 2006, Deacon Klein was accepted and was ordained in 2010. He plans to continue his ministry in the Archdiocese of Denver.
Moab is a wonderful place to celebrate the Catholic faith, Deacon Klein said. "People come from all over the world for Mass, and it's so wonderful to have the opportunity to make that connection."
The Catholic community in Moab is very close-knit, he said, adding that the parish became his family's spiritual home. "We all know each other and we really do become family to each other.... The church in a small community like this can become a real center for your activity and your life. The people here have been so gracious and kind to me and to Lori and to our family. It was a wonderful place to raise kids. We could not have asked for better.... The people and the Eucharist have sustained us all."
Deacon Klein "is an incredible man," said Tony Chacon, a St. Pius X parishioner who also worked for the deacon at the same company. In addition to nurturing the students in the CCD class, the deacon "was the backbone of the church," Chacon said. "When Father's not here, he's the man. He's a super guy. I'm glad I had him in my life."