Diocesan Lenten retreat helps renew faith
Friday, Mar. 12, 2021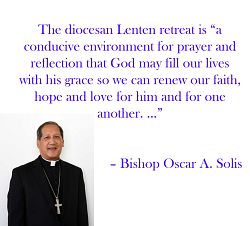 + Enlarge
SALT LAKE CITY – On March 6, hundreds of Catholics from across the Diocese of Salt Lake City joined Bishop Oscar A. Solis in a virtual annual Lenten retreat that was offered through the diocesan website.
Bishop Solis gave messages of welcome and introductions of the retreat speakers in English and Spanish. Fr. Roger Keeler, JDL was the speaker for the English retreat; Fr. Sergio Serrano, O.P. led the Spanish retreat.
In his remarks, Bishop Solis welcomed all those participating and invited them to join their hearts "in a spirit of repentance and reconciliation focused on the pastoral mission of our faith, the suffering, death and resurrection of Christ."
He then introduced the retreat theme: "Renewing Faith, Hope and Love."
"Lent is a great opportunity to renew our relationship with God and with each other," the bishop said. "It begins with an inventory of our way of life in order to recognize our weakness and sinfulness brought about by worldly allurements that distract us to neglect our prayer and become indifferent to God's presence in our life."
"Now is the time to reset our priorities and to work on our Christian values to get closer to God and to get holiness of life," he added.
During Lent, people tend to be preoccupied with such spiritual practices as prayer, fasting and alms-giving, Bishop Solis said. "However, Lent is not so much about doing something extra for God. Rather, it is a time to let God do something extra for us. So let us sit still and allow him to speak in the silence of our hearts."
The diocesan Lenten retreat is "a conducive environment for prayer and reflection that God may fill our lives with his grace so we can renew our faith, hope and love for him and for one another. This is a special moment to once again focus all our attention to God by turning away from sin and returning to him with all our hearts," he said.
Bishop Solis then offered a prayer (see p. 5) for participants asking that God would be a "teacher, guide and inspiration" to them during the retreat.
Bishop Solis also introduced Fr. Keeler, an assistant professor of canon law at the Oblate School of Theology and former executive director of the Canon Law Society of America.
During his presentation Fr. Keeler focused on the example of St. Joseph, whom he called the "man in the shadows," and drew material for this topic from Pope Francis' Dec. 8 apostolic letter Patris Corde ("With a Father's Heart").
Catholics have faced a number of challenges this past this year, in particular the pandemic, he said. Like many today, St. Joseph faced crisis in his life that tested his endurance and faith, Fr. Keeler said, and modern Christians can learn much from the example of how he faced adversity and uncertainty in his life.
Fr. Keeler also addressed the issue of fear, which has filled many people because of the events of the past year. Quoting St. Paul in 2 Timothy 1:7, he said the faithful have divine power to help them weather the greatest storms in life.
"Irrational fear that dulls the mind and deadens the spirit, does not come from God," he said. "Rather it comes from all those anxious voices we choose to listen to, ascribe to, until what they say becomes embedded in us. Divine power is given to you, to me. That's God's gift to us."
"St. Joseph well understood how fear could imprison and faith could liberate," he said. "St. Joseph was never paralyzed by fear. He always found a way to move forward through his fear."
Fr. Keeler also spoke of what he called "creative courage."
"Pope Francis reminds us God will always find a way to save us, that's provided we show some creative courage on our own, even as St. Joseph was a man of creative courage," he said. "He was able to turn a problem, said Pope Francis, into a possibility by trusting always in Divine Providence."
Fr. Keeler encouraged his listeners to remember times they and others had been creatively courageous in dealing with the pandemic.
In the Spanish session, 'An unexpected journey that takes us to Life' Fr. Serrano reflected on what Lent is and means and offered advice on how to be a better Catholic during Lent and after it.
After Fr. Keeler and Fr. Serrano's messages, participants joined one of 16 English or 60 Spanish Zoom meetings where local parishes or individuals led discussion of the theme and reflection questions provided by the retreat masters.
"I think the first value is in community that we build together whether it is in person or over virtual Zoom," said Carol Ruddell, a St. Thomas More parishioner who participated in one of the breakout sessions. "I think it's just a wonderful opportunity to really share. We have common experiences even though we aren't seeing each other as often. Being able to get together and share our experience of the past year as well as our hopes moving forward, I think that's the most important thing."
Margaret Mischel, a Blessed Sacrament parishioner, appreciated the online breakout session, given that an in-person retreat is not possible at this time. She liked being able to see other people who weren't wearing masks, and "having the retreat has been really beneficial for me; I come away with so much," she said. While making time to participate is a sacrifice, "it is that subtle thing that God gives us that we don't realize."
The content of the retreat was very deep, and "if people watch it several times, they will find a lot of content about the Year of St. Joseph," said Susan Northway, director of the diocesan Office of Faith Formation.